Denver, Chicago First to Get Tru2way TVs
Following some
fits and starts
, the tru2way TV era is officially underway.
Comcast Corp.
(Nasdaq: CMCSA, CMCSK) customers in Denver and Chicago will be the first to get their hands on two new hi-def, tru2way-based televisions from
Panasonic Corp.
(NYSE: PC) that can deliver digital cable services, including video on demand (VOD), without a separate set-top box.
Panasonic's 42-inch tru2way TV (the Viera TH-42PZ80Q) carries a suggested retail price of $1,599.95, while the 50-inch model (the Viera TH-50PZ80Q) sells for $2,299.95. Both models, which require multi-stream CableCARDs to authorize service from Comcast, obtained
CableLabs
certification a few weeks ago. (See
CableLabs Stamps Panasonic TVs
.)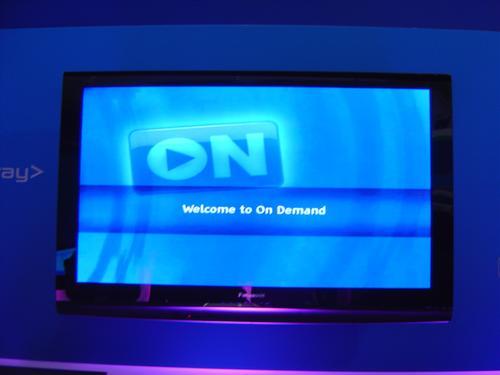 Panasonic's tru2way sets also feature a 480Hz "Sub-field Drive" (for sharp motion image focus), the Viera Link (allows for users to operate all Viera Link-equipped components with a single remote), and a built-in SD Memory Card reader.
Those sets are slated to hit the shelves at
Abt Electronics
,
Ultimate Electronics
, and
Circuit City Stores Inc.
stores in Denver and Chicago late this month. [Ed note: evidently, I was mistaken to
troll around Best Buy
for tru2way evidence over the weekend.] However, the Abt store in Glenview, Ill., expects to start selling Panasonic's tru2way sets by the middle of next week, according to Abt general manager Marc Cook.
To spur demand, Comcast, Panasonic, and their retail partners are offering $300 rebates on the new hi-def sets, but no one is ready to predict how rapidly they expect them to fly out of stores.
"We're hoping they'll sell well, but we're not broadcasting any [sales forecasts] at the moment," says Dr. Paul Liao, chief technology officer of Panasonic Corp. of North America.
Cook suggests that the retailers such as Abt will be able to "hold the line" on tru2way pricing during the holidays because the sets not only offer access to some new technology but simplify the entire process. "We anticipate a pretty good sell through at the beginning," Cook says.
More markets coming
Although Chicago and Denver are first in line for the sets, other Comcast markets are expected to light up tru2way in the coming months. As part of a far-reaching tru2way "memorandum of understanding" originally negotiated with
Sony Corp.
(NYSE: SNE), Comcast, along with several other major MSOs, are on the hook to provide network support for the middleware component of tru2way and to support tru2way in the headends serving all digital cable systems by July 1, 2009. (See
Revealed: The Tru2way MOU
.) A key goal of tru2way is to ensure that any TVs or set-tops certified by CableLabs are "portable," meaning they can be authorized for cable services on any system that supports the platform.
"Our intention is to be able to sell in all those markets," Liao says. "We're working as diligently as we can to make sure that the TVs will work flawlessly with all tru2way compatible systems."
However, in the initial phase of deployment, even tru2way TV makers that get the CableLabs stamp should expect to go through another level of integration and testing with local cable systems to ensure that the sets are working properly and don't become trouble call magnets.
"There are many ways it can go wrong. It's important that we work together" with cable operators, Liao notes.
Mark Hess, Comcast's SVP of video product development, says the MSO picked Denver and Chicago because they are already equipped to support the Docsis Set-top Gateway (for signaling to the operator's headend) and had the required tru2way servers and headend software installed. Another reason: Comcast's service footprint is fairly extensive in both markets, giving it somewhat of a "contained" environment in which to get tru2way rolling.
Hess adds that Comcast expects to go live with tru2way in more markets in the first two quarters of 2009. Comcast's Denver and Chicago markets use
Motorola Inc.
(NYSE: MOT)'s conditional access (CA) system. Hess expects Comcast to support tru2way in some systems based on the
Cisco Systems Inc.
(Nasdaq: CSCO) CA by the end of the first quarter of 2009.
To ensure that tru2way TV buyers have a decent experience from the get-go, Comcast will install service and the CableCARD separately. "I do think that over time we will get into a self-install. It won't happen overnight," Hess says, noting that it took some time before customers could self-install Docsis cable modems.
— Jeff Baumgartner, Site Editor,
Cable Digital News
PARTNER PERSPECTIVES
- content from our sponsors