Spending on DWDM and Sonet/SDH equipment isn't going to pick up at all until 2003 and won't return to the levels experienced last year for the foreseeable future, according to a market forecast published yesterday by the Dell'Oro Group.

The forecast, for the worldwide optical transport market, says overall revenues for this type of equipment will total $17.7 billion this year, down roughly 23 percent from last year's total of $22.9 billion.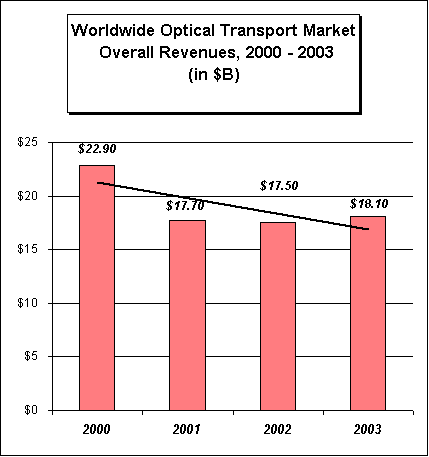 Additionally, the firm doesn't predict the market will start growing again until 2003. And even then, it forecasts only a small increase of about 3 percent from the preceding year.

The figures are no surprise. Late in May, Dell'Oro predicted that the dwindling fortunes of key players in the optical networking market, such as Nortel Networks Corp. (NYSE/Toronto: NT), would have a negative impact on overall revenues this year (see Nortel Drags Down Market).

It's a trend that won't be easy to budge. According to Shin Umeda, principal analyst at Dell'Oro, the lack of spending by service providers represents more than a mere cutback. It's the result of many carriers turning a corner in network development.

"Many emerging [service providers] embarked on constructing new large North American and global fiber optic networks," the report states. "In late 2000, many of these [service providers] completed the main construction phase of their optical networks and began transitioning their purchasing patterns from high volume infrastructure build-outs to more modest incremental bandwidth acquisitions."

Not to mention the carriers who've gone bust during the recent downturn.

Dell'Oro's figures seem to tally with other firms' findings about the displacement of Sonet/SDH with DWDM gear. Another research firm, Frost & Sullivan, has reported that by next year, traditional Sonet/SDH gear will start to decline in proportion to a burgeoning market for next-generation equipment, including DWDM gear with Sonet interfaces (see Report: Next-Gen Gear Replacing Sonet).


- Mary Jander, Senior Editor, Light Reading
http://www.lightreading.com Want to know more? The big cheeses of the optical networking industry will be discussing this very topic in a session at Opticon 2001, Light Reading's annual conference, being held in San Jose, California, August 13-16. Check it out at Opticon2001.