Juniper's role in the networking universe was clear and important: It was the company that built the engines that ran the Internet. Juniper core routers carried the bits on the global networks that transformed business, politics and life.
More recently, Juniper's reputation went bad. It lost focus, got into a fight with activist investors and then -- in a spectacular fiasco -- went through through three CEOs in one year.
To the outside observer, the $4.9 billion company today might seem like it's going through an identity crisis. Bigger players, such as Cisco Systems Inc. (Nasdaq: CSCO) and Huawei Technologies Co. Ltd. , provide full-service networking and data center technology and solutions, including switches, servers and edge devices. Smaller companies, such as Arista Networks Inc. and a variety of specialist startups, specialize in narrow technology niches (for example, in Arista's case, high-performance cloud networking).
That leaves Juniper stuck in the middle. It's neither a generalist nor a specialist.
As Juniper gets ready to report quarterly earnings on Tuesday, it makes sense to ask the question: What is Juniper nowadays?
Juniper's identity today is simple, Scott Sneddon, senior director of SDN and virtualization at Juniper's Global Center of Excellence, tells Light Reading: It specializes in providing end-to-end networking -- and nothing else. Not servers and collaboration services like Cisco, not mobile devices like Huawei, not virtual reality cameras like Nokia -- just networking.
"We're a pure-play networking company," he says. "We focus on networking -- networking security, networking automation, and managing network infrastructure."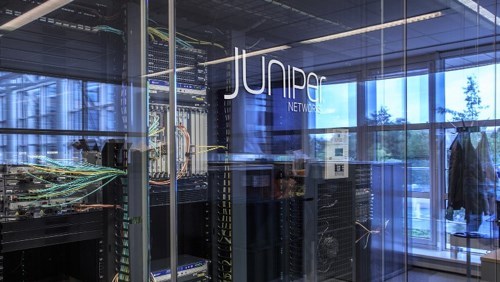 Moreover, Juniper hardware and software is interoperable with other vendors' kit, using open standards and interfaces, to connect with existing networks, claims Sneddon (in what is a familiar refrain from all vendors). "Nobody is building a network from scratch," Sneddon says. "Everybody has something they need to interoperate and integrate with."
Roz Roseboro, senior analyst at Heavy Reading , sees recent improvement in Juniper. "It seems to have its act more together than it did a couple of years ago," she says. "I think it's getting back to the way things used to be. It was hyperfocused, expanded a little bit, got out of control, and now it's back to basics."
Roseboro traces Juniper's problems to former CEO Kevin Johnson, who came in from Microsoft and brought in top Microsoft executives to lead the company. Juniper partnered with IBM, Microsoft, and Oracle on software. Johnson announced his departure in 2012 and was replaced by Shaygan Kheradpir in January 2014.
That's when things got weird. Literally a day after Kheradpir came into office in January 2014, he faced a fight with activist investors Elliott Associates. They reached an agreement on a new operating plan. (See Investor to Juniper: 'You Suck' and Juniper Bows to Investor Pressure, Refocuses.)
Then Kheradpir unexpectedly resigned following a review by Juniper's board of directors regarding his conduct in a negotiation with an unnamed Juniper customer. Juniper executive Rami Rahim took his place as CEO. (See Turmoil at Juniper as CEO Quits.)
Rahim seems to have steadied the company, Roseboro says. "It was like comfort food to the company to have Rami there," Roseboro says. "Everybody likes Rami."
She adds that Juniper is "getting back to high performance innovation, instead of trying to be so many things to so many people."
Scalability is a big part of Juniper's strategy, and virtualization is key to delivering scalability. Juniper provides virtualized firewalls and MPLS routers that can be delivered as virtualized network functions for providers who want to deliver virtual CPE to customer premises.
Juniper uses the same software for its virtual and physical devices, allowing network operators to trial services using virtual devices on commodity hardware, and then roll out physical devices for greater performance, Sneddon says.
"We have physical MX router and virtual MX router, but for the purpose of managing they're the same -- same CLI, APIs, routing and IP protocols on the physical and virtual," Sneddon says. "If I have a customer that I bring up on the network for a low-bandwidth service and they grow over time, I don't have to change the operational tools. It's a consistent operating system across all those platforms -- the JunOS operating system."
An X86 router maxes out at 50-60 Gbit/s but that's equivalent to a single line card on a carrier-class IP router. "It becomes more cost-effective at some point to transition to more purpose-built hardware," Sneddon said.
Next page: Scoring a coup