VMware Laughs at Container & OpenStack Threats

Comment (1)
In partnering with potential competitors on containers, OpenStack and appliances, VMware is taking business lessons from Star Trek's Klingons and Ferengi.
VMware Inc. (NYSE: VMW) is following the Klingon proverb: Keep your friends close, and your enemies closer. And it's also following one of the Ferengi's many Rules of Acquisition: If anything threatens to kill your business, do it ahead of your competition.
Kicking off its VMworld user conference on Monday, VMware announced a partnership with Google (Nasdaq: GOOG), Docker and Pivotal to run container-based applications in clouds, using VMware infrastructure. Users can choose between containers and virtual machines, or mix and match them both. (See VMware Teams With Google, Docker & Pivotal on Containers.)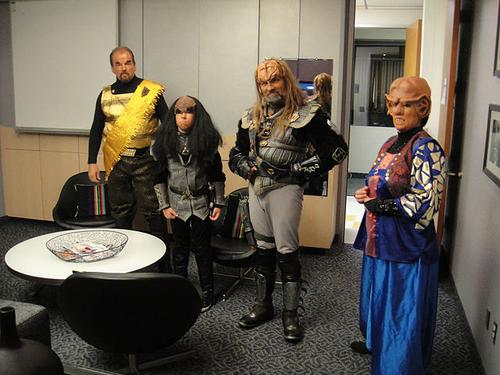 VMware and Docker will work on interoperability, collaborate on open source projects including libswarm for container orchestration, libcontainer for container management and libchan for network services communication.
VMware and Google will work together on compatibility between VMware's Open vSwitch and the Google-led Kubernetes container cluster management system.
Because they are lighter than virtual machines, containers are a potential threat to VMware's business. On the other hand, containers provide less isolation than full VMs, making containers potentially complementary. VMware is wise to stay on top of the trend toward containers.
In a second example of embracing a potential threat, VMware is embracing the OpenStack cloud stack. OpenStack is a framework for managing virtualized compute, storage and networking resources, and VMware's own tools do the same. VMware on Monday announced that users will be able to manage OpenStack using VMware's tools.
Again: Smart move by VMware. If users want OpenStack, they can go to VMware for it. VMware has a history keeping OpenStack close; it joined the OpenStack Foundation two years ago.
---
Find out more about key developments related to the systems and technologies deployed in data centers on Light Reading's data center infrastructure channel
---
Also, VMware got into the hardware game, partnering with Dell Technologies (Nasdaq: DELL), EMC Corp. (NYSE: EMC), Fujitsu Ltd. (Tokyo: 6702; London: FUJ; OTC: FJTSY), Inspur, Net One Systems Co. Ltd. and Super Micro Computer Inc. on the EVO: RAIL virtualization appliance to allow users to deploy virtual machines in minutes. By partnering with hardware vendors, VMware is addressing a competitive disadvantage with Cisco -- VMware is a software company and software needs hardware to run. Cisco has hardware. (See VMware Launches EVO: RAIL Virtualization Appliance.)
In addition to the container, OpenStack and appliance announcements, VMware also announced an upgrade to NSX and partnerships with Dell, Gigamon Systems, HP and F5 Networks. (See VMware Upgrades NSX, Beefs Up OpenStack Support.)
VMware's initiatives are potentially a big deal to carriers. VMware is mostly an enterprise IT business today, but is looking to build its carrier business. And carriers are expanding their cloud business, building on a foundation of virtualization, where VMware excels. Like the Federation moving into the Gamma Quadrant, VMware and carriers will be seeing a lot more of each other.
— Mitch Wagner,

, West Coast Bureau Chief, Light Reading. Got a tip about SDN or NFV? Send it to [email protected]