Whether or not a telecom service provider owns its own data center comes down to a lot more than financials, especially as the landscape of the communications services sector is changing so rapidly.
As telecom becomes more software-oriented, more than half of Light Reading's readers believe service providers should own and operate their own data center. In a recent poll, in which more than 1,400 readers voted, just under 50% of respondents said that service providers should own their own data centers to prepare for the convergence of telecom and IT, while another 18% believe they should do so because it's the only way they can provide the services customers demand.
Just under 10% are in favor of telcos owning their own data centers, but only for internal purposes, something that many carriers are already doing. On the flip side, 16% said owning data centers was a distraction, when such facilities could be easily outsourced, while another 8% either didn't know what a data center was or had other ideas on how service providers should handle them.
For just those 92% with a strong opinion, here's a look at how the numbers break down, largely in favor of data center ownership.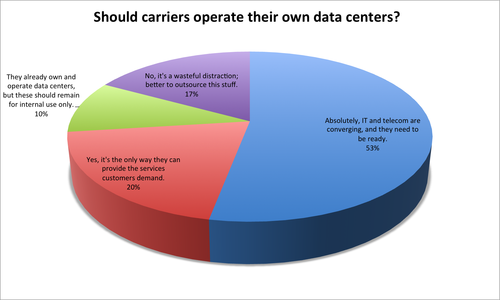 ---
Want to know more about telco data center strategies? Check out our dedicated data center content channel here on Light Reading.
---
It appears most of the industry is in agreement with the Light Reading faithful. Mitch Wagner asked a number of operators, vendors and those that own and outsource data centers alike what they thought of carriers hosting their own data centers. Check out his full report in the Prime Reading Section of the site: Telco Data Centers: 7 Reasons Carriers Should Run Their Own Facilities.
Related posts:
August was telco data center month at Light Reading. Catch up on all the coverage below.
— Sarah Reedy, Senior Editor, Light Reading