Even for Virtualized Networks, Hardware Vendor Choice Matters
Fifth-generation (5G) cellular promises gigabit speeds, single-digit-millisecond latencies and mission-critical reliability. To deliver on those promises, mobile operators and the companies that serve them need to take a fundamentally different approach to infrastructure.
The foundation for that new approach is software-defined networking (SDN) and network function virtualization (NFV), which enable a lot of radio access network (RAN) and evolved packet core (EPC) components to run on commercial off-the-shelf (COTS) IT gear such as servers. That fundamental change provides mobile operators with several business benefits:
COTS hardware is less expensive than purpose-built telecom infrastructure. Those savings help operators price their 5G services competitively yet profitably -- a particularly important advantage for serving the notoriously price-sensitive Internet of Things (IoT) market.
The RAN and EPC become applications that data center operators can host. This gives mobile operators opportunities to save money by unloading the expense of owning the infrastructure and facilities. Or a mobile operator could own the data centers and use them to provide infrastructure as a service (IaaS) to companies that want to expand into cellular.
Virtualized infrastructure gives mobile operators more options for managing and orchestrating traffic. For example, 5G introduces network slicing, which is easier to configure and support in a virtualized environment. That in turn helps mobile operators serve applications that benefit from network slicing, such as IoT and connected vehicles.
Virtualization enables compute resources to move closer to the network edge. This increases application performance, and it can reduce traffic loads on the core network because more activity now can be handled at the edge.
Some mobile operators, such as AT&T, have spent the past few years virtualizing parts of their 4G networks. These initiatives helped them reduce costs and increase flexibility with 4G. But just as important, this architectural shift, and their hands-on experience with it, also laid the foundation for 5G, where virtualization will be the rule rather than the exception. At the same time, 4G virtualization with COTS infrastructure also showed data center operators the potential market opportunity for hosted RANs and EPCs.
Local exchange carriers (LECs) are particularly well positioned to capitalize on the hosted 4G/5G market because they have multiple central offices (COs) dispersed around each metropolitan area they serve. Their COs—which already have fiber connections, as do most cell sites—can be retrofitted to double as data centers. This combination of fiber access and proximity to the cell sites in a metro is key for meeting 4G's and 5G's backhaul latency requirements.
Figure 1 illustrates this evolution.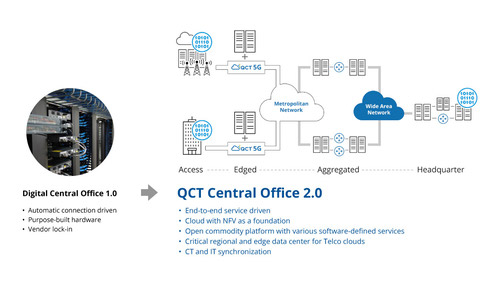 Regardless of whether it's hosted or in the mobile operator's data center, the virtualized infrastructure must have several key features and capabilities. In other words, not just any COTS server or switch can meet mobile's unique requirements.
For starters, it must be standards-based. Mobile operators don't want vendor lock-in. Instead, they want the flexibility to mix solutions to meet their business requirements and network architecture. Figure 2 illustrates a solution based on ETSI.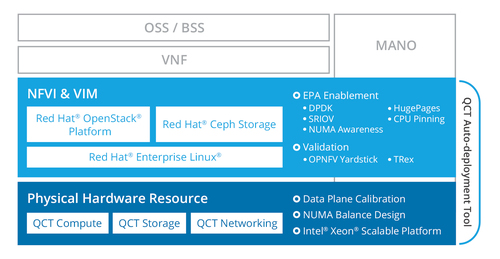 The solution also must be testable using standards such as OPNFV Yardstick. Another example is TRex, Cisco's traffic generator which generates high traffic volumes to determine whether a solution will hold up in a real-world environment. That's key because the benefits of COTS and virtualization can't come at the expense of reliability and performance.
The ideal solution comes from a vendor that has developed its own servers, switches and storage. That way, it has in-house engineering teams capable of quickly testing new software to verify that the proposed implementation will meet the mobile operator's requirements. All of this frees mobile operators from tasks such as performance benchmarking in multiple implementation scenarios and fine tuning the COTS hardware to achieve its goals.
The vendor also should have working relationships with providers of hypervisors, VNFs and other systems so it can better understand how each combination of hardware and software will perform. Otherwise, the vendor can't ensure that a configuration will provide the seamless, flawless interoperability that enables a COTS-based environment to meet telecom's traditional benchmark of five-nines reliability. In fact, mobile operators say interoperability is one of their top concerns as they migrate to virtualized networks. That's why they prefer a vendor capable of offering an ecosystem of partners and validated interoperability.
The bottom line is that building a mobile-grade virtualized COTS network isn't as simple as it might appear. It still needs to be as reliable as traditional, purpose-built telecom infrastructure while providing the flexibility that mobile operators seek from a software-defined architecture. So one old rule carries over to this new paradigm: the choice of vendor can make or break a mobile operator.
— Mike Yang is a senior vice president of Quanta Computer and president of Quanta Cloud Technology (QCT). He has been leading data center infrastructure solutions in the company for Cloud/Communications Service Providers and enterprises.