Breakfast With... Pica8's Steve Garrison

Comment (4)
You think the holidays are uncomfortable for your family? Be glad you're not an SDN vendor. Things are going to get ugly in the SDN startup community around the end of the year, and it's only going to get worse next year.
I had breakfast with Pica8 Inc. Marketing Vice President Steve Garrison, at Palo Alto Creamery Fountain & Grill, a classic 20th century diner in the heart of 21st century Palo Alto, Calif. We talked about the state of the SDN industry over eggs and coffee, and he shared his thoughts on why SDN is making life harder for startups. (See Pica8 Claims OpenFlow 1.4 First and Pica8 Adds Muscle to ABC – 'Anybody But Cisco'.)
The Technology
SDN has been unusual among emerging technologies, as big incumbent players were strong competitors from the outset, Garrison said. With most emerging technologies, startups have a two- or three-year window in which to develop before incumbents wake up and take notice. Not with SDN -- incumbents got into that game early on.
"There are so many incumbents in there with a story. It's not a great story, but it's a story," Garrison said. Busy IT managers, particularly in the enterprise, are likely to go with the safe, incumbent vendors rather than trying something new.
For startups, the "mudslinging" is against the incumbents, rather than each other, Garrison added.
And the healthy tech economy, with plenty of investment money to go around, has helped keep the startup culture fraternal and friendly.
Garrison uses a prizefighting metaphor to describe the state of the market.
"The big ring in Vegas doesn't have your two favorite fighters," he said. It's got the incumbents -- Cisco Systems Inc. (Nasdaq: CSCO) and VMware Inc. (NYSE: VMW) -- fighting it out for the championship.
Sitting on the sidelines, in the front row -- "not the cheap seats" -- are the leading startups, as well as established vendors from other markets that are new to SDN: Arista Networks Inc. , Brocade Communications Systems Inc. (Nasdaq: BRCD), Juniper Networks Inc. (NYSE: JNPR) and Dell Technologies (Nasdaq: DELL), Garrison said.
These companies want a quick fight with a knockout blow so they know whose technology they have to be sure to work with. What they don't want is for things to continue as they are now, with Cisco and VMware sparring and even occasionally cooperating, dragging things out for a long time.
---
Find out more about key developments related to the systems and technologies deployed in data centers on Light Reading's data center infrastructure channel.
---
Interestingly, IBM Corp. (NYSE: IBM) is no longer in the front row. IBM has been kicked out and now sits in the cheap seats, Garrison said.
Life has been good for SDN startups for the past couple of years, with investor capital flowing. That's going to change soon, and we'll see some companies get acquired and others just go out of business.
It's going to be a gloomy Christmas and 2015 for many SDN startups.
The Restaurant
When we arranged breakfast, Garrison asked me if I was up for a classic diner. I have only two answers to that question: YEAH, and HELL YEAH. Growing up in the New York area, I spent the best wasted hours of my life in diners. Those kind of diners are hard to find in California.
But the Palo Alto Creamery fits the mold wonderfully. Founded in 1923, the diner changed hands in 1988 and has had the same owner -- and same interior design -- since. Garrison says he's been coming here since 1989, and it hasn't changed.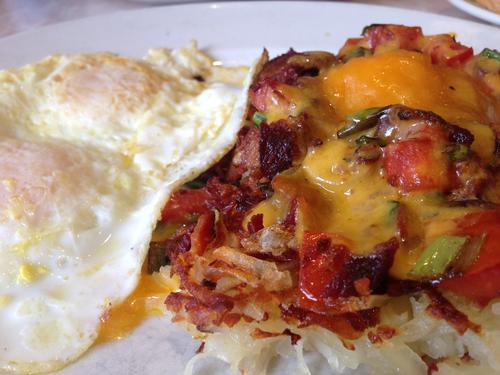 Strictly speaking, it's not a true classic diner because it wasn't built in a repurposed railroad car. Then again, neither were the diners where I camped in years past, so I'm not complaining.
Garrison had chicken-and-apple sausage with two eggs. I went for something called a "hash brown pie" -- hash browns with lots of peppers, onions and melted cheddar, served with two eggs. My breakfast wasn't great, but it was good. You can't go wrong with fried potatoes, peppers, onions, eggs and plenty of melted cheese.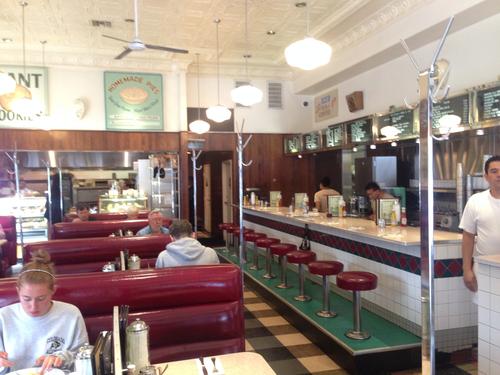 — Mitch Wagner,

, West Coast Bureau Chief, Light Reading. Got a tip about SDN or NFV? Send it to [email protected]