Arista Stock Jumps On Meteoric Growth
Arista's stock jumped 8.81% in after-hours trading Thursday after reporting a whopping 65.2% year-on-year growth, and a 17.7% sequential increase, in second-quarter revenues to $137.9 million.
Arista Networks Inc. traded at $78.58 at 5:42 p.m. EDT after its first earnings report as a public company.
Not a bad opening act for the data center switch vendor as it takes to the big stage.
The vendor's gross margin of 67.7% was better than the 64.6% recorded a year earlier but down slightly from the 69.4% achieved in the first quarter of this year. Net income was $21.6 million, giving an earnings per share (EPS) of $0.34, compared with $10.3 million (an EPS of $0.18) a year ago.
The company, which has built its business around the growing demand for virtualized and SDN-enabled switching, expects further growth in the third quarter, as it anticipates revenues of between $142 million and $150 million and a gross margin of 64%-66%. (See Arista Looking for Love in IT Places, Arista Announces Datacenter Switches and Arista's New Hardware Packs SDN.)
Is that kind of growth sustainable? Jayshree Ullal, Arista President and CEO, believes so. The company's core customers -- "cloud titans," Tier 2 service providers, finance firms and high-tech enterprises -- will continue to boost sales into the future.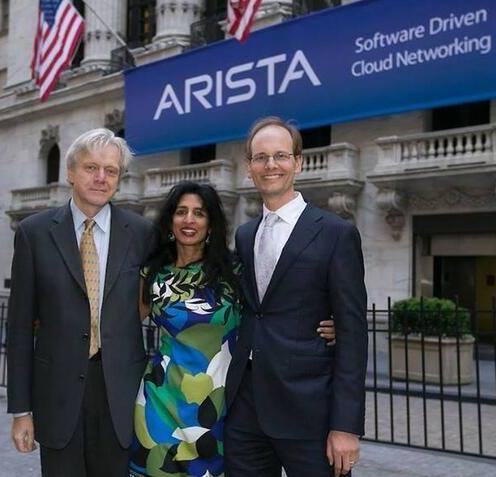 Deployments in those companies start small, but then grow over time as vendors earn the company's trust. "We believe [that] in all our major verticals, we have tremendous opportunities to deepen share," Ullal said.
Cloud providers build out networks in real time, when customers sign on, noted the CEO -- they don't build in anticipation of future demand, or to create demand.
---
Learn more about SDN and virtualization at Light Reading's Data Center Infrastructure channel.
---
Only one customer comprises more than 10% of Arista's revenues in the second quarter -- Microsoft. Arista would not comment on its earnings call exactly how much revenue Microsoft provides, but Arista noted when it filed for its IPO that Microsoft generated 22% of its revenues in 2013. (See Arista up 32% on IPO and Arista Faces Legal Challenge as It Files for $200M IPO .)
Over time, Microsoft's share of Arista's revenue will settle to 10%-20%. "Microsoft will always continue to be a very important customer to us," CFO Kelyn Brannon said.
Arista is seeing growth outside the US, driven at least in part by its US customers growing internationally and taking Arista with them. International business made up 25% of revenue in the most recent quarter, up from 18% in the previous quarter and 17% a year ago, Brannon said. Arista is focused on the same four verticals internationally that drive its US growth, mainly in developed countries -- such as the UK, Germany, Netherlands, Japan, South Korea and Australia -- that favor large data center projects.
Also driving growth for Arista is a partnership with VMware Inc. (NYSE: VMW), which provides virtualization software that complements Arista's hardware. Colt Technology Services Group Ltd is deploying VMware software on Arista hardware as a big part of its drive to data center and network virtualization. (See Colt Pulls the Trigger on Data Center Virtualization.)
VMware and Arista have a common rival -- the same one that pretty much every other networking company faces -- in Cisco Systems Inc. (Nasdaq: CSCO).
— Mitch Wagner,

, West Coast Bureau Chief, Light Reading. Got a tip about SDN or NFV? Send it to [email protected]
PARTNER PERSPECTIVES
- content from our sponsors