Service Cloudification Enables B2B Transformation in China Telecom
The Internet Age is characterized by active innovation in enterprises, emergence of new services, and acceleration of service processes. These factors lead to increased ICT service requirements and bring both major opportunities and challenges to enterprise service providers. Telecom operators are the basic enterprise connection and communication service providers. How can they combine their advantages and grasp enterprise ICT service market trends to maintain sustainable growth in the new era?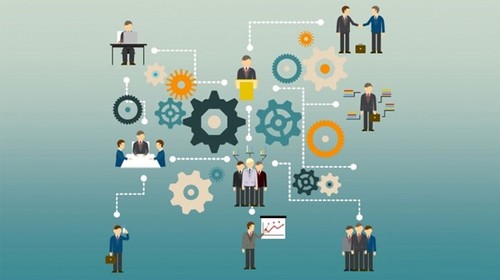 Traditional Enterprise Service Development Encounters a Bottleneck
The Guangdong branch of China Telecom (Guangdong Telecom for short) is a pioneer in developing China Telecom's government and enterprise services, with an annual enterprise market revenue of 50 billion RMB and a service scope surpassing 3 million enterprises in Guangdong. Throughout many years, Guangdong Telecom has released more than 50 types of enterprise services. Government and enterprise services represent an area of huge potential in Guangdong and are a focus of the strategic development of Guangdong Telecom. However, the development of mobile Internet, the ICT industry, and emerging new technologies (such as SDN, Cloud) pose great challenges to traditional advantages. These challenges include the following:
The existing resale model of government and enterprise services involves fierce homogenized competition, resulting in low customer loyalty and frequent operator replacement.
On-premises and chimney-style deployment and dedicated maintenance of services result in high O&M costs, isolated service provisioning.
Insufficient ICT service innovation capabilities cannot meet diversified requirements of modern enterprises.
Insufficient stimulation of mobile and broadband government and enterprise users, hard to expand.

One-Fiber Strategy Reconstructs Enterprise Connections and Communications
In 2015, Guangdong Telecom's fiber battle achieved success upon completion of the all-fiber network. With careful research and analysis, Guangdong Telecom proposed the government and enterprise ICT market-oriented vision of "Government-Enterprise Unified Communications", in which one fiber is connected to an enterprise to provide a differentiated and competitive solution covering cloud telephony, cloud call centers, cloud video, security networking, and cloud applications (enterprise Email, cloud storage, OA, CRM, ERP, and cloud monitoring). This solution fosters the transformation from selling products to selling services.

Our one-fiber strategy was determined through systematic thinking, which covers service + network Internet-based transformation. This transformation will provide users with a series of Internet-based enterprise cloud services, such as cloud PBX, cloud conferencing, cloud IPCC, enterprise private line, private cloud for government and enterprise, and a capability exposure platform. To match service transformation and Internet-based transformation at the network layer, we should deploy SDN/NFV on backbone and metro networks and adopt large L2 data center interconnection and distributed cloud storage to enhance competitiveness.
—— Zhong Ping, President of Guangdong Telecom
One Fiber, Multiple Services
In September 2015, Guangdong Telecom cooperated with Huawei to start building an E2E one-fiber enterprise ICT service solution. In this solution, one fiber provides multiple services to meet the requirements of various large, medium, and small enterprises, improving user experience and expanding the user base. This solution greatly strengthens fiber values and allows Guangdong Telecom to transform from an enterprise communications service provider to an enterprise cloud service provider.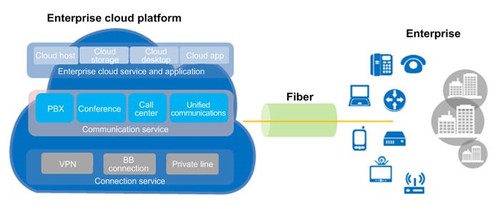 The E2E solution uses a 3-layer unified communication cloud platform to provide services to enterprise users. The first layer is the communication system that consists of Cloud PBX, Cloud Video Conferencing, Cloud Call Center. The Cloud PBX, handles all office call issues. The Cloud Call Center is used to contact customers. The Cloud Video conferencing system addresses the multi-party communication requirements of enterprises. The second layer is the IP layer solution, which meets interconnection and private line requirements of enterprises. The third layer provides enterprise cloud services and IT applications characteristic of an operator. After fibers are connected to enterprises, operators can provide the preceding services to enterprises. Enterprises can subscribe to services on the unified web portal and enjoy consistent fixed-mobile convergence experience.
In addition, by opening up traditional connection and communication capabilities, this solution implements coverage and adaptation of a range of industry applications, including those in the marketing, hotel, supply chain, manufacturing, education, and service industries. The solution also provides unified Cloud PBX, cross-domain networking, self-service setting, and call rights control.
This solution also brings the following benefits to Guangdong Telecom:
A one-stop cloud platform is deployed to realize entire network coverage, solve chimney-style service system operation difficulties, improve ICT service innovation capabilities and competitiveness, and build an enterprise ICT service ecosystem.
One fiber provides multiple services, which implements value overlay, fully uses pipe resource advantages, and increases ARPU.
The hosting operation model meets asset-light operation requirements of medium and small enterprises and reduces enterprise operation costs by more than 15%.
On-demand service subscription and flexible service combination meet scenario-specific requirements of different enterprises, improve user experience, and increase user loyalty.
Rapid TTM addresses the slow and difficult rollout of enterprise services, greatly improving user satisfaction.

One Fiber Improves Efficiency and Reduces Costs

Enterprise A: Cloudification of PBX Service
A big logistic company has more than 40 warehouses and office in Guangdong province. The fixed and mobile phone numbers of sales personnel at multiple sites need to be bundled, in order to realize cross-city cooperation. However, the original PBX is rapidly aging, frequently encounters faults, just has simple functions, and is difficult to be upgraded. The customer requires a function upgrade that allows for simple operation and maintenance and easy capacity expansion. To address this requirement, Guangdong Telecom provides a cloud PBX solution. This helps the customer implement unified switchboard number and multi-site coverage, realize flexible scaling in/out on demand and upgrade, satisfy self-management demanded by enterprise. So that this solution improves work efficiency and reduces O&M costs for the customer.

Enterprise B: Efficient Communication through Convergent Videoconferencing
A certain government in Guangdong province has multi-level branches, distributed widely in very big region, traffic among those branches are very inconvenient. Previously they mostly depended on telephony, concentrated meeting to achieve communication, cause very low efficiency and high cost. Under the policies of the Chinese government, such as government operation cost reduction, this government is intent on leveraging a video communication platform to improve efficiency of government service operation.

By utilizing its cloud video platform and fiber network which is already reached everywhere in the province, Guangdong Telecom provides a unified video conference system to achieve video conference communication covering all level branches for this government, satisfies government operation needs including low cost and high quality. Till now, more than 400 branches and offices have deployed video conference End-point, this service largely saves conference and traffic expenditure and improves work efficiency for the government.