Google's new Partner Interconnect service, launched this week, means all the major cloud operators are now doing their own form of direct connection to a host of global service providers, setting up those service providers to compete more on how they help enterprises connect the right application to the right cloud.
Google's roster of initial partners includes many of the usual suspects: AT&T Inc. (NYSE: T), BT , CenturyLink Inc. (NYSE: CTL), Colt Technology Services Group Ltd , Digital Realty Trust Inc. Equinix Inc. (Nasdaq: EQIX), KDDI Corp. , NTT Communications Corp. (NYSE: NTT) Orange (NYSE: FTE), SoftBank Corp. , Tata Communications Ltd. , Verizon Communications Inc. (NYSE: VZ) and Zayo Group Inc. (NYSE: ZAYO), along with IT consultant NRI and Australian-based Megaport , a network-as-a-service provider. The companies are providing private network connectivity to the Google Cloud at Layer 2, Layer 3 or both in a range of bandwidths that meets a broader set of market needs than Google Cloud Interconnect, a dedicated service for 10-gigabit waves that served the larger connections.
That means enterprises have new options for how they connect to Google Cloud and how they use Google apps, without having to be as concerned with where the onramp to Google is physically located, says Eric Troyer, chief marketing officer for Megaport, which was an early beta user of Google Partner Interconnect with some of its existing customers.
"What is unique for us is the level of integration we have done with Google," he says. "We have done integration with our systems from a backend standpoint so our provisioning system is communicating all the way through with Google so there is significant ease of use for users of Google cloud to get directly interconnected. Our integration will be a pretty big differentiator in terms of how easy it is to get onboarded."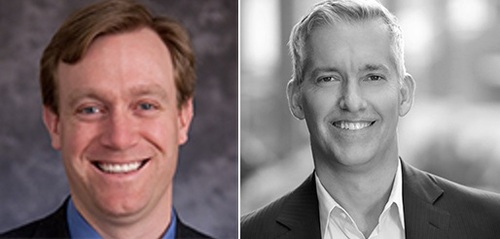 Megaport is offering a Layer 2 connection in North America, Europe and Asia, which means lower latency connections, he adds. "This puts Google cloud onramp at parity with other cloud onramp services that are really designed around high performance so this ability to connect in at Layer 2 helps reduce the round-trip latency between the private infrastructure of an enterprise IT architecture and the public cloud offering from Google," Troyer says.
CenturyLink is offering a Layer 3 connection as part of its service offering to enterprise customers who want help navigating the increasingly complex world of multi-cloud connections, says Chris McReynolds, VP of core network services for CenturyLink.
"It really comes down to, do I the customer want to manage my own routing and have great control over my network, so that means Layer 2 services, or do I want to work with a provider such CenturyLink and have them manage all of that complexity because it is not core to my business," he comments.
---
Is data center infrastructure ready for mobile edge computing, enterprise cloud, IoT, big data and 5G? Learn more about telco data center trends -- join us in Austin at the fifth-annual Big Communications Event May 14-16. The event is free for communications service providers!
---
For many CenturyLink customers, navigating the increasingly complex world of multi-cloud connections is something they would like to hand off to a service provider.
"We have an IT services group that has a consulting arm that provides the expertise on what types of applications it makes sense to move from people's data centers into the cloud, and then into which cloud," he says. "Different cloud providers have different strengths and different cost structures. One may be very effective at providing low-cost storage, another may be very effective at big data-analytics, another may be very effective at software-as-a-service."
The complexity of optimizing the multi-cloud environment is only growing, McReynolds adds. "It is definitely a never-ending process," he says. "We are wanting to add more partners. There are changes also -- for example, Microsoft had Office 365 and the public side of Azure as two different entities. They now are combining those and that means, while we may not be creating new network services to them, how we provide those network services changes."
Both men say their enterprise customers are also increasingly making their choice of cloud providers based on specific applications -- Microsoft 365 versus Google's business applications, for example. That doesn't mean network connectivity is completely out of the picture, however.
"I do think there are nuances to how each provider does their connectivity, such as whether they let you use their backbone to move between cloud regions," McReynolds says. "I do think they try to differentiate on the network connectivity side. More to your point, they are creating new features and capabilities that may make their customers' lives easier around big data and analytics."
— Carol Wilson, Editor-at-Large, Light Reading