12:35 PM -- SAN FRANCISCO -- CTIA ENTERPRISE & APPLICATIONS 2010 -- Here's a hot area: managed services that let developers write an app only once, then apply it to multiple types of handsets.

Alcatel-Lucent (NYSE: ALU) got into this game recently by buying OpenPlug. (See AlcaLu OpenPlugs Away at Apps Enablement.) And at CTIA Wednesday, I happened to meet three other companies working on the same problem.

What strikes me is that I wasn't even trying; I just happened upon three of these booths. That probably means a couple dozen other companies are working on the problem.

In these three cases, the startup hosts the app. Devices use the app by connecting to the startup's cloud, which performs the magic to port the app to that particular device. I didn't have a lot of time to spend with any of these companies, so lots of subtle differences and technical detail are absent here. But I got a good sense of how startups are tackling the problem.


Trilibis Mobile Inc. , describing itself as a software-as-a-service (SaaS) company, launched SmartPath in 2005. It's an authoring environment that converts developers' input into a set of rules. A mobile device that taps a Trilibis-hosted application then triggers those rules.

Trilibis is more established than many. It lists Citysearch, Evite, and Match.com as customers. And it got selected for CTIA's Telecom Council Innovation Showcase.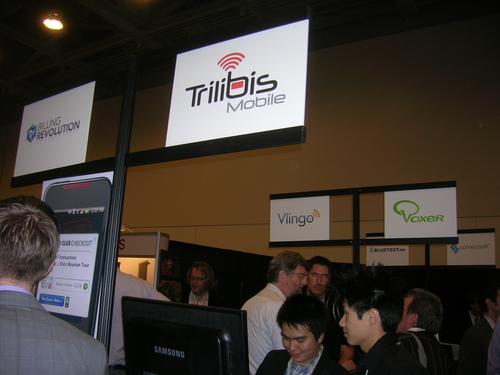 appMobi got started because the people running FlyCast wanted to port their app to the iPhone, BlackBerry, and Android environments. Supporting all three was so painful that they decided others would pay money to not experience the pain.

Calling itself a platform-as-a-service (PaaS) company, appMobi puts its software development kit (SDK) in the cloud. Developers write their stuff in HTML and/or Javascript, and appMobi converts it into a fully built application for various (but not all) platforms.

In eight weeks, appMobi has attracted 4,000 developers "with almost no publicity at all," says Joe Monastiero, vice president of business development. "We planned on this [the CTIA show] being the launch." He's now expecting 20,000 developers by year's end.


Boopsie Inc. did the trick by creating client software for each cellphone OS. Maintaining them all isn't as complex a task as you'd think, says Timothy Kay, chief technology officer.

Boopsie has been working with libraries, universities, and real estate listings services. "Typically these are customers that have an audience already on the desktop" and are adding mobile presence," Kay says.

Another client of Boopsie's: the CTIA show, which created its own app. A big part of Boopsie's play is in its backend systems; in this case, it's able to work with the CTIA's servers to get registration information, finding out in real time who's attending which sessions, for instance.


— Craig Matsumoto, West Coast Editor, Light Reading