Coree Networks Inc., one of the Iris Group companies, felt the sting of the economy's slowdown this week. The majority of the New Jersey-based core switch maker's staff has been let go, Coree chairman H. Michael Zadikian told Light Reading on Tuesday. The company's development efforts have been winnowed down to a small group of engineers so Coree can preserve its cash, he says.

After deciding that the market for Coree's MPLS-based switch wouldn't open up until 2002 or 2003, Zadikian says the company's directors decided to revisit how the company was building the switch, with the idea of possibly incorporating newer components and other technologies. One key difference in Coree's development this time around, Zadikian says, will be that the company will use "off-the-shelf" switching chips rather than trying to build its own.

"We've decided to reset the program, aim for 2002 or 2003, and take advantage of [technology] advances," he says. In conjunction with its new product plans and the grim funding environment, Zadikian says, Coree began "a substantial reduction in work force."

Zadikian didn't specify how many were let go. As of February 2001, when Coree announced its first funding round of $30 million, the company employed about 50 people (see Coree Networks Raises $30 Million).

Coree's investors include Hook Partners, Mayfield Fund, Sevin Rosen Funds, and Lightspeed Venture Partners (an investor in Light Reading).

"You have to adapt to the change in the market environment," Zadikian says. "If you don't, you're gonna die."

The decision to cut back at Coree also came because it was the last company formed in the Iris Group -- which includes Metera Networks Inc., Latus Lightworks Inc., and Iris Labs -- and, therefore, its product was not as far along in development.

Though they were formed and funded separately, the Iris Group companies hold to a common network vision -- dubbed the Optical Data Network Hierarchy (ODNH) -- and common network management software. The gist of ODNH is that the core stays dumb and fast, network intelligence remains at the network's edge, and wavelengths are handled in larger groups so they're easier to manage (see Iris Group Shuffles Executives and Iris Group Unveils Network Architecture).

The other companies in the Iris Group are still on track, and each expects to ship products next year, Zadikian says. There are fundraising efforts underway for each company, but Zadikian declined to go into details. He says Metera and Latus employ between 120 and 140 people each.

Zadikian also implied that none of the other Iris Group companies were in immediate financial trouble. "The companies raised a lot of money in their Series A rounds -- about twice what is normally raised."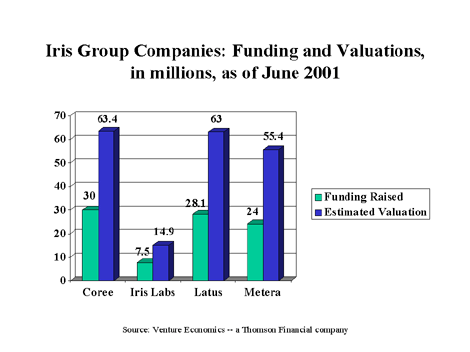 - Phil Harvey, Senior Editor, Light Reading
http://www.lightreading.com