SANTA CLARA, Calif. -- Next-Generation Network Components -- Increasing traffic and network speeds are driving demand for flexible carrier networks over the course of the 2010s, a decade that is seeing fundamental changes to the system development model, greater growth of mobile data, ever-increasing network speeds, and network virtualization.
Heavy Reading analyst Simon Stanley kicked off the one-day Light Reading components event with a run at breakneck speed through a decade of carrier evolution.
This decade has seen 10Gbit/s networks yield to 100Gbit/s connections over the long haul, and by 2020 we'll see 400Gbit/s networks as standard. For wireless, 3G was the standard at the start of the decade; most people now have 4G, and by 2020 hopefully we'll see significant deployments of 5G, Stanley said.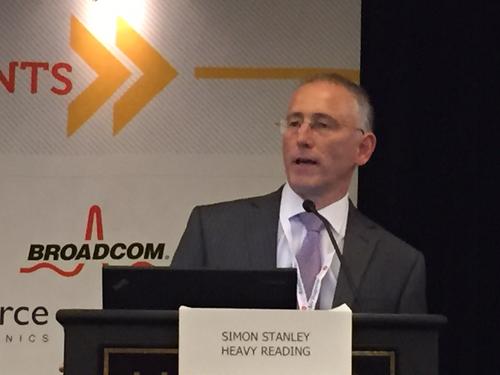 Fixed network architectures were standard in 2010, with carriers requiring days or months to enable new services. By 2015, architectures will become flexible. "People are delivering new services within a few hours or maybe a few days," Stanley said. By 2020, we'll see virtual networks driven by SDN and NFV, where services can be deployed in minutes.
Many systems vendors were vertically integrated just four years ago, Stanley said (adding that he was fudging a bit -- that was more the standard model in 2000 than 2010). Later, systems vendors shifted to a horizontal model -- no longer developing all technology internally, but now involving third parties. And by 2020 we'll see a virtual development model, with network operators able to integrate multiple vendor technologies through standard APIs.
Components are critical to successful transitions, enabling networks to be built from off-the-shelf pieces including optical, semiconductor, software and systems, Stanley said.
---
Find out more about components on Light Reading's components channel.
---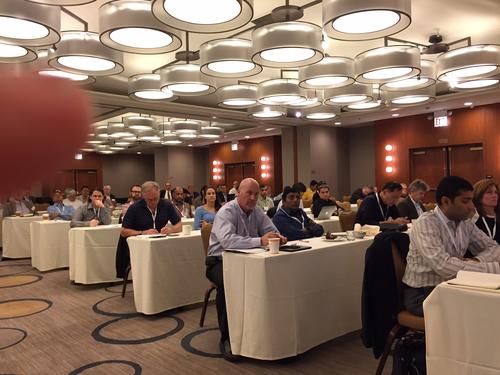 And at the same time as the network architecture is changing, bandwidth requirements are increasing on both wired and wireless networks.
Data demand is driven by network-intensive applications including cloud services, video and TV on demand, voice and video over IP, and always-on applications such as instant messaging and location service, Stanley said.
Mobile data accounted for 18 times the data volume in 2013 of the entire Internet in 2000, and will see 10x growth in the next five years. It's driven by smart devices -- smartphones, tablets and laptops, Stanely said.
Network virtualization, including SDN and NFV, is key to allowing vendors and carriers to keep up with demand. Standard platforms form the foundation for network hardware. "Above that you've got a virtualization layer that essentially applies virtual resources," Stanley said. Instead of accessing real compute, storage and networking, these resources are virtualized.
"That gives you significant flexibility," Stanley said.
— Mitch Wagner,

, West Coast Bureau Chief, Light Reading. Got a tip about SDN or NFV? Send it to [email protected]