Comcast Corp. (Nasdaq: CMCSA, CMCSK) is apparently taking a page from the DirecTV Group Inc. (NYSE: DTV) playbook by developing a unified design product line that touches just about every device it will lease to customers, spanning everything from set-tops, advanced gateways, cable modems, handsets, and simple Digital Terminal Adapter (DTA) devices. (See Comcast's Internet + TV Set-Top Surfaces and Rumor: Is This Comcast's 'Parker' Box?)

They'll all carry the MSO's new "Xfinity" brand, eventually, when Comcast decides to put this strategy into play on a wide basis. When it does, it will be much harder to find the branding of Pace plc , Cisco Systems Inc. (Nasdaq: CSCO), Motorola Inc. (NYSE: MOT), Samsung Corp. , Technicolor (Euronext Paris: TCH; NYSE: TCH), or other manufacturers that end up making these various gadgets for the MSO.

The devices themselves will continue to carry product model monikers such as the "RNG210N," in the case of the Pace-made gateway Comcast's using in Augusta, Ga., to test out a new user interface and navigation system. But the Xfinity brand will be front and center. (See Comcast Tests Broadband-Fed Xcalibur Service.)

A source familiar with this project, apparently called "XPAND" internally, provided Light Reading Cable with this image, which shows how this strategy is coming together across the product line.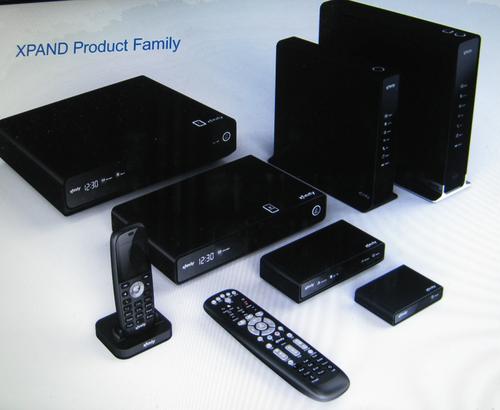 It's not yet known when Comcast intends to launch this new box branding strategy, though some of those devices are expected to emerge sometime in 2011. Additionally, this strategy is expected to be phased in gradually since Comcast will obviously want to use its legacy equipment for as long as it can.

But an industry source likens the strategy to DirecTV's, which, for example, has enlisted Pace, Technicolor (Thomson), and Humax Co. Ltd. to build its "HR" series boxes based on the satellite service provider's specs. There's also no design variation between those boxes or any noticeable branding that would identify one manufacturer's box to another.

— Jeff Baumgartner, Site Editor, Light Reading Cable