Comcast's Web-Slinging Set-Top Visits the FCC
Comcast Corp.
(Nasdaq: CMCSA, CMCSK) is apparently inching closer to deploying a souped-up, IP-connected video gateway after the latest version of the
Pace plc
-made device recently passed through the
Federal Communications Commission (FCC)
for testing.
Engadget on Wednesday
caught wind
of the
FCC filings
that included an updated user's manual, which has since been taken down. The box, code-named "Parker" and a component of Comcast's next-generation Xcalibur video platform, sports a
Docsis 3.0
cable modem; a
CableCARD
slot, USB, HDMI and Ethernet ports; an eSATA link for an "optional" external hard drive; and an SD Card port that's being set aside for "future use." The FCC took a look at an earlier version of the device in late 2010. (See
Comcast's Internet + TV Set-Top Surfaces
.)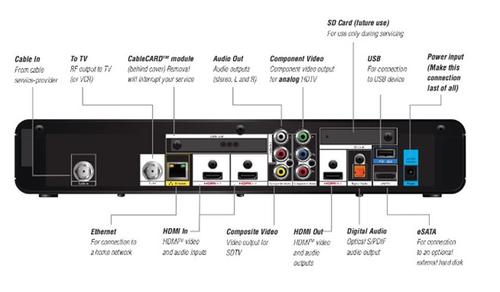 Comcast's expected to use the hybrid RF/IP gateway to help it launch a new cloud-based navigation platform and a platform that will integrate Web-sourced, third-party applications. How many apps the MSO will support at launch is unknown, but apps from
Pandora Media Inc.
and
Facebook
, plus news and weather widgets, were among those gracing the device used for Comcast's small Xcalibur field trial in Augusta, Ga. In addition to apps, the D3 modem in the box is expected to play an important role in Comcast's IP video migration. (See
Docsis 3.0 Tackles Linear IP Video
.)
The FCC stamp gets the device over an important barrier. A Comcast spokeswoman declined to say when and where it will launch the box first, but Comcast Converged Products President Sam Schwartz said last fall that the MSO intends to deploy it broadly in 2012. (See
Comcast to Swing Xcalibur Wide in 2012
.)
In the meantime, Comcast has started to reclaim all of its analog spectrum in some markets to free up capacity for more HD channels and new services such as Xcalibur. Comcast has about a quarter of the job done, with Denver among the latest markets to start the process of shutting down all analog TV services. (See
Comcast Starts to Kiss Analog TV Goodbye
.)
To get a sense of what Xcalibur and the Parker box have in store, here's a clip of the demo Comcast Chairman and CEO Brian Roberts did at last year's Cable Show in last June.
— Jeff Baumgartner, Site Editor,
Light Reading Cable
PARTNER PERSPECTIVES
- content from our sponsors