Comcast's Hi-Def Triple Play
3:40 PM -- Unlike
Time Warner Cable Inc.
(NYSE: TWC) chief Glenn Britt,
Comcast Corp.
(Nasdaq: CMCSA, CMCSK) execs spent less time this morning at the
UBS
Global Media and Communications Conference talking about the direct impact of
slower subscriber growth in the fourth quarter
and much more time discussing new service packages and bundles the MSO will use to help it weather a tough economy.
Taking aim at price-sensitive subs who still want their share of HD eye-candy, Comcast has unveiled three triple-play "promo" bundles that tie in hi-def programming and sell for $114.99 to $179.99 per month.
The lower-end "HD Starter" tier offers the HD box, 80-plus channels (a mix of standard- and hi-def), unlimited Comcast Digital Voice service, and Internet speeds of 12 Mbit/s (downstream) in markets where the MSO has launched Docsis 3.0, and 6 Mbit/s in its non-Wideband markets. (See
Comcast Takes 'Wideband' Wider
.)
Here's how Comcast's new HD triple play tiers stack up: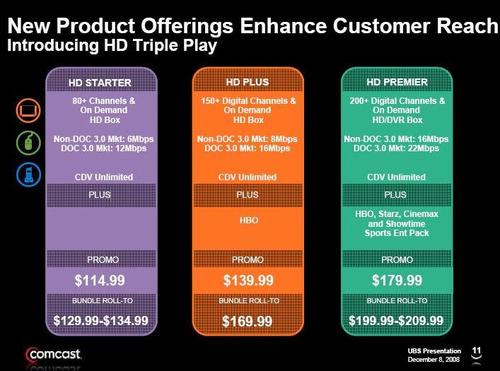 The new hi-def packages are showing up as consumers mull whether to buy HD sets in an economic downturn and MSOs face the prospect of slower subscriber growth. Comcast already offers "economy" tiers for its cable modem and digital voice services. On the data front, the economy tier runs $24.99 per month for symmetrical 768 Kbit/s. The MSO has also launched a economy video tier that runs about $30 per month, and offers about 50 video channels and almost as many digital music channels.
Comcast EVP of operations Dave Watson did not apply any specific numbers to the growth trends the MSO is seeing in the fourth quarter, but acknowledged that Comcast continues to receive fewer calls from customers who are seeking new services. That also gives Comcast fewer opportunities to upsell to customers directly.
"Those things obviously have not shifted," he said. "Those conditions remain."
And of the calls that are coming in, Watson added, more and more of them are from subs asking Comcast: "This is a tough time. What can you do?"
Clearwire update
Like Britt before him, Watson also weighed in on Comcast's plans with the
Clearwire LLC
(Nasdaq: CLWR) venture. (See
Cable Plays Clearwire Card
.) Although Comcast hopes to use WiMax to make its existing services available wirelessly, Watson said the MSO is most focused on "anywhere data."
"Our focus has been and continues to be that," he said, noting that it's important for Comcast to protect its high-speed Internet customers with a "wireless alternative."
Comcast, Watson added, expects to roll out WiMax-based services in some initial markets next year, but did not specify when or how many.
— Jeff Baumgartner, Site Editor,
Cable Digital News