LAS VEGAS -- CES -- Starting next year, Comcast Corp. (Nasdaq: CMCSA, CMCSK) customers will be able to not only record their favorite shows but take them with them on the road, as well.

Addressing a capability that DirecTV Group Inc. (NYSE: DTV) and Dish Network LLC (Nasdaq: DISH) introduced at the Consumer Electronics Show (CES) in 2006, Comcast and Panasonic Corp. (NYSE: PC) have introduced the "AnyPlay" Portable DVR (P-DVR), a standard-definition device with a built-in 60 gigabyte hard drive and DVD/CD player.

The portable element clicks into a docking station that also serves as a digital set-top box, capable of supporting traditional Comcast services, including video-on-demand, the MSO's electronic guide, and other interactive cable applications. It also functions as a DVR when the portable component is connected. A 12V DC adapter will allow the portable unit to be powered up in cars.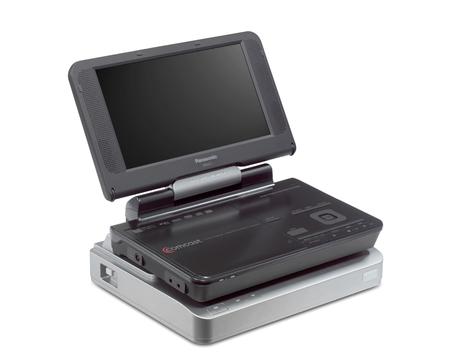 Comcast says it will lease the unit to customers, but it hasn't disclosed pricing, so it's not known whether the new device will be more expensive than the MSO's "generic" SD-DVR. Comcast's premium HD-DVR offering with TiVo Inc. (Nasdaq: TIVO) on the Motorola Inc. (NYSE: MOT) set-top platform, for example, is starting off in the New England region with a monthly "up-charge" of $2.95. (See Bells 'n' Whistles and TiVo Set-Tops Trickle Out .)

Initially, the P-DVR, due out in early in 2009, will be available directly through Comcast, but, thanks to the presence of a CableCARD slot, it could be considered for retail distribution, as well.

Panasonic AVC Networks Co. president Toshihiro Sakamoto will demonstrate the new device during his keynote here at CES Monday morning. It's possible the demo will feature a cameo appearance from Comcast chairman and CEO Brian Roberts, who is scheduled to keynote at CES on Tuesday.

The AnyPlay P-DVR, which goes by the name TZ-LC100 in Panasonic product parlance, is also outfitted with "tru2way" technology, a re-branding of the CableLabs -specified OpenCable Platform, which, prior to that, was called the OpenCable Application Platform (OCAP). (See Goodbye, OCAP .)

Panasonic, an early consumer electronics champion of OCAP, has also incorporated tru2way into some Plasma digital televisions and set-top models, including an HD-DVR called the TZ-PCH-2180.

Development of the P-DVR marks the latest collaboration between the cable and consumer electronics giants.

In 2006, Panasonic agreed to supply Comcast with an initial order of 250,000 HD-DVR set-tops outfitted with OCAP middleware, the MPEG-4 codec, and hard drives with a minimum of 250 gigabytes of storage. The order, to comply with specs outlined by Comcast's RNG (Residential Network Gateway) project, also gave the MSO the option to buy up to 1 million set-tops during the first year of the contract. (See Comcast & Cox Deal Set-Tops at CES and Intel Goes Inside Cable... Again.)

Comcast said volume commitments for that original set-top order and the new P-DVR offering are not linked.

Although the Comcast-Panasonic P-DVR will address a competitive advantage currently enjoyed by DBS (direct broadcast satellite) competitors, there are distinctive differences between their approaches. While Comcast's version uses a docking station that also functions as a set-top, the handheld PocketDish, for example, hooks in through the host receiver's USB port.

Comcast has not announced any plans to offer a smaller, portable DVR that works with its legacy base of digital set-tops, nor has it said when or if it will introduce an HD version of the portable DVR.

— Jeff Baumgartner, Site Editor, Cable Digital News