Comcast Beefs Up iPhone App
6:50 AM --
Comcast Corp.
(Nasdaq: CMCSA, CMCSK), as anticipated, has added a feature to its
Apple Inc.
(Nasdaq: AAPL) iPhone and iTouch app that lets customers program their DVRs remotely -- but not all of the MSO's customer homes will get it right away.
For now the new app (Comcast Mobile 2.0) works in some
Motorola Inc.
(NYSE: MOT) markets, including select parts of Pennsylvania, Delaware, Virginia, Maryland, Massachusetts, Arizona, Tennessee, and Utah. About 3.1 million homes have access to it today as an extension to Comcast's
myDVR Manager
app, which ties into the A24 release of the "iGuide" interactive program guide (IPG). Comcast, which serves 23.6 million video subs, expects to roll the remote DVR (rDVR app) to additional markets throughout the year. (See
Comcast's New IPG, 'MyDVR' Take Off
.)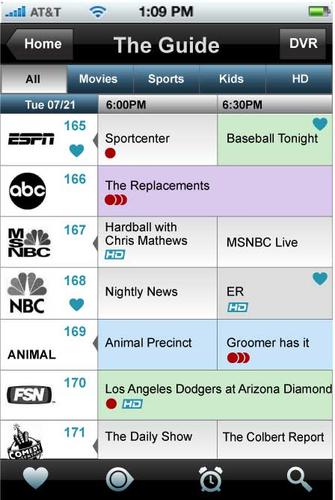 Comcast launched its free iPhone app last July, promising that a remote DVR (rDVR) capability would be added later. The latest version of the app also includes "push" notifications to alert customers when they receive new emails or voice mails. The app already provides access to Comcast.net email, "visual voice mail," their address book, TV listings, and trailers to some movies available on the MSO's video-on-demand (VoD) platform. (See
Comcast's TV-Free iPhone App
.)
The rDVR upgrade for the iPhone scratches out one product differentiator already enjoyed by competitors such as
DirecTV Group Inc.
(NYSE: DTV) and
Verizon Communications Inc.
(NYSE: VZ) -- at least in some of the MSO's markets.
Comcast expects to launch a mobile app for BlackBerry devices "in the coming months."
— Jeff Baumgartner, Site Editor,
Light Reading Cable