Red Hat is introducing an upgrade to its OpenShift Kubernetes platform, designed to help operators move to 5G networks built with containerized network functions, the company said Wednesday.
OpenShift 4 integrates the CoreOS Linux operating system that Red Hat acquired when it acquired CoreOS for $250 million in early 2018. CoreOS is optimized for simplified management, automation and security.
Additional new capabilities include:
OpenShift supports service mesh, providing virtual networking for microservices, with network isolation and added security, based on the Istio open source project.
OpenShift supports the Knative open source project to run serverless applications.
Red Hat is partnering with Microsoft on Kubernetes-based event-driven autoscaling (KEDEA), for deploying serverless, event-driven containers on Kubernetes in the hybrid cloud and on-premises with OpenShift.
OpenShift runs as a managed service on Microsoft Azure. That expands OpenShift's availability as a managed service; it previously ran as a managed service on Amazon Web Services and Google. It also runs -- but not as a managed service -- on Alibaba, IBM, VMware, OpenStack and bare metal.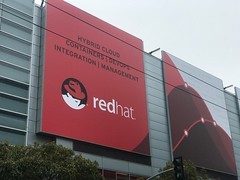 The OpenShift upgrade comes as IBM nears closing its $34 billion deal to acquire Red Hat, which IBM says will close in the second half of the year.
Why this matters
The OpenShift upgrade Wednesday complements Red Hat Enterprise Linux 8, launched on Tuesday. RHEL 8 improves the popular Linux version as a platform for containers, and OpenShift adds Kubernetes support for container orchestration, in public, private, or hybrid clouds.
Telcos and other service providers are moving their networks to containerized virtual services, to increase agility and speed to market. Red Hat already has a strong telco business; RHEL 8 and OpenShift 4 makes it stronger by adding automation and improved security.
By building in the operating system, service mesh, public cloud managed service support, and Knative, Red Hat addresses the hassles of operators having to assemble those pieces for themselves.
Related posts:
— Mitch Wagner




Executive Editor, Light Reading