IBM unveiled details on Thursday of how it will integrate Red Hat products and services, following its $34 billion acquisition. And the strategy is surprisingly simple and compelling. Simple enough to fit in a tweet.
Red Hat Enterprise Linux and OpenShift are the foundation for IBM's multicloud strategy, running IBM's own middleware providing management, orchestration, compliance and security.
That's 180 characters -- plenty of room for emoji and animated GIFs.
IBM will use Red Hat software to allow applications to run on clouds -- including Amazon Web Services, Microsoft Azure, Google Cloud Platform, Alibaba and IBM's own IBM Cloud, as well as private clouds -- without modification. "Write once, run anywhere, using the power of Red Hat to run across all clouds," Steve Robinson, IBM general manager of Red Hat synergy, tells Light Reading.
As part of the multicloud strategy, IBM is integrating its own products with Red Hat. Red Hat OpenShift will run on IBM Cloud, and on the IBM Z mainframe and LinuxONE mainframe operating system. IBM's consulting and services professionals will support Red Hat technology.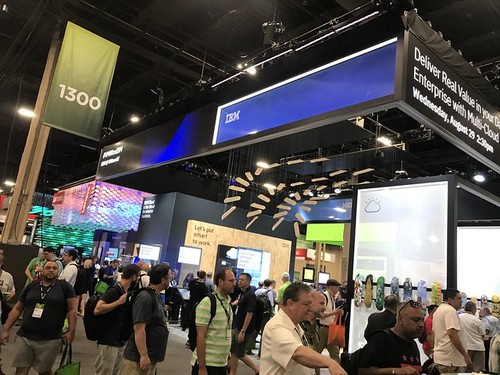 Additionally, IBM supports Red Hat Enterprise Linux and OpenShift with more than 100 middleware applications, in packages IBM is calling IBM Cloud Paks.
"We're taking our middleware, data and AI, and cognitive portfolio, and we've been rebuilding that that as containerized, cloud native properties that can run on top of the Red Hat platform," Robinson says.
The first five Cloud Paks, available now, are: Cloud Pak for Data, to simplify and automate getting insights and provide open, extensible architecture for virtualizing data for AI; Cloud Pak for Applications, to modernize, build and deploy applications; Cloud Pak for Integration, to integrate apps, data, cloud services and APIs; Cloud Pak for Automation, to transform business processes, decisions and content; and Cloud Pak for Multicloud Management, to provide multicloud visibility, governance and automation.
The IBM components enable cloud-native applications to operate consistently across platforms, supporting uniform policies and security for business needs, Robinson says.
The integration pre-dates the Red Hat acquisition; it's been going on two years, he says.
"How do you manage multiple public clouds and also private cloud? You have to be consistent, and that's the role of Red Hat," says IBM Fellow Bala Rajaraman. The combination of IBM and Red Hat technologies provides consistent operation for applications that move as needed across containers using Kubernetes, on any cloud, on premises, in the edge, or on 5G networks, he says.
For telcos and other services provider, the combined IBM and Red Hat software can help accelerate the move to Network Functions Virtualization (NFV) by providing a hardened, end-to-end certified technology stack, Rajaraman says. Telcos are moving to a standard platform, running containers with Kubernetes and OpenStack, which IBM and Red Hat provide strong support for.
While IBM says it's aggressively and equally supporting all clouds, it sees a special role for IBM Cloud for applications requiring a high degree of security, control and compliance. IBM also excels in bare metal support, the company says. "In certain cases, and for certain classes of workloads, that's where IBM Cloud excels," Rajaraman says.
Likewise, IBM mainframes support strong encryption and transaction throughput.
IBM named Sprint as a marquee customer for Cloud Pak for Data. Sprint is using the software with Watson Studio and Machine Learning to generate client insights, according to the IBM news release.
These details about IBM's Red Hat integration answer a big question about the aftermath of the deal: How will the products and services, formerly from two separate companies, integrate?
Another big question is whether the two companies will fulfill a promise that Red Hat would remain independent, able to partner both with IBM – which we're seeing happen here – and IBM's competitors.
Dell and VMware face similar market conditions: Dell owns a controlling interest in VMware, and those companies are pursuing multicloud strategies, like IBM and its Red Hat business unit, both together and separately.
Related posts:
— Mitch Wagner




Executive Editor, Light Reading