Rakuten's energy use soared on mobile rollout
The roughly 80,000 people who burn jet fuel to reach Mobile World Congress this year will be exposed to more orally spread emissions than ever before about green telecom and "sustainability," a suitably vague descriptor. Given some of the claims, you would think basestations sprout leaves and produce oxygen. But the ugly truth about the sector is evident from a quick scan of Rakuten's annual report for 2021.
In 2019, before it launched its network service, the Japanese company used about 141 gigawatt hours (GWh) of energy and generated approximately 68,000 tonnes of carbon dioxide in Scope 1 and Scope 2 emissions (more on what these and Scope 3 mean later). By the end of 2021, less than two years since Rakuten switched on 4G, annual energy consumption had rocketed to nearly 467 GWh. And those carbon dioxide emissions had soared to about 243,000 tonnes.
Lest there be any doubt that telecom is mainly to blame for all this energy consumption, Rakuten admits it. Telecom, it turns out, is responsible for about 62% of the entire group's electricity use, and electricity accounts for all but 2% of Rakuten's energy consumption. Data centers are the second-biggest culprit, at nearly 24% of electricity use, with the other 14% split between offices, sports facilities, logistics and factories.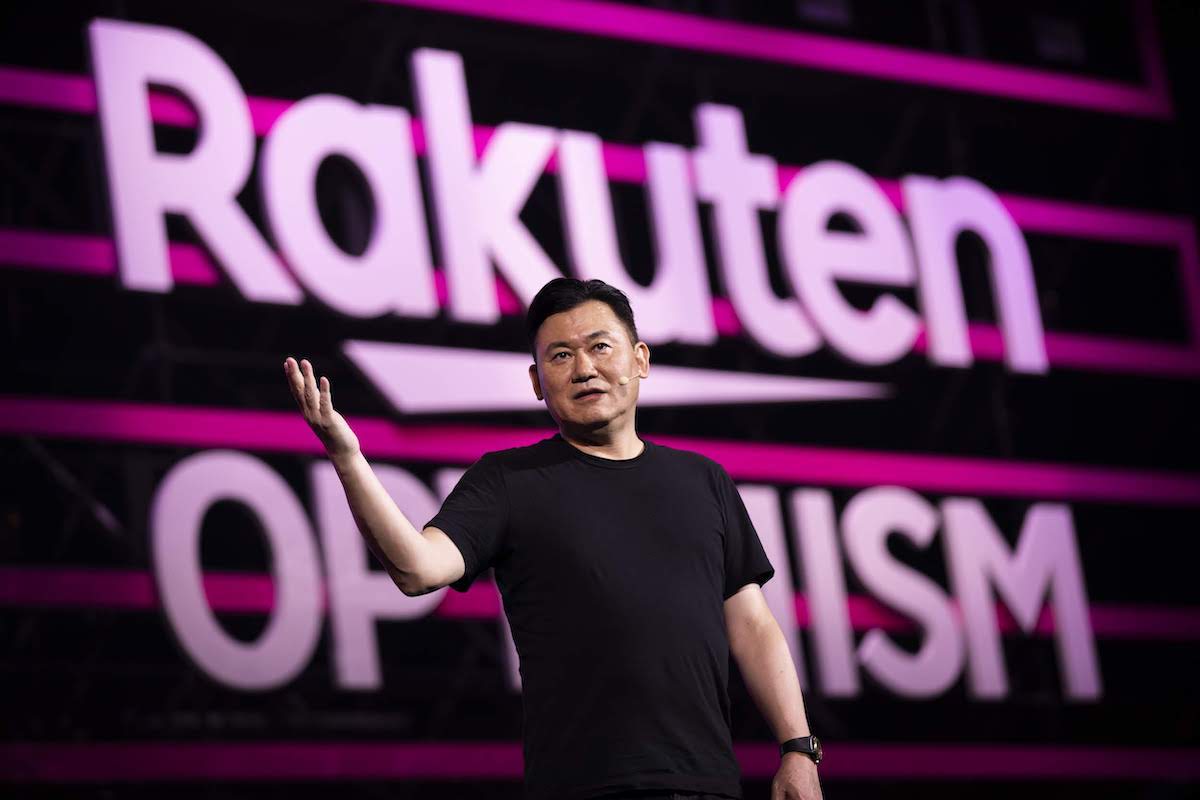 Now, this does not mean Rakuten Mobile, as the telecom unit is branded, scores badly on energy efficiency next to its peers. Far from it, in fact. Sixty-two percent of 467 GWh is just 290 GWh, just 13% of the 2,313 GWh that BT generated in the UK over roughly the same period. Closer to home, Japanese telco rival KDDI burned through about 3,639 GWh, 14% more than it consumed the year before.
Still, building a new mobile network in a country that already had three was not exactly the greenest move by Hiroshi Mikitani, Rakuten's founder and CEO. It is not as if the Japanese were craving an alternative to NTT Docomo, KDDI and SoftBank, either. In a country with a population of about 126 million, where the biggest mobile operator (Docomo) has more than 80 million subscribers, fewer than 5.2 million people had signed up with Rakuten Mobile by the end of September.
Lean and mean

On the plus side, Rakuten is super lean, employing only about 250 people at its operations unit, compared with thousands at each of its Japanese rivals. Network equipment has been shorn of unnecessary components and cabling. Automation software is commonplace, powering down systems not in use. And there are none of the Jurassic platforms and technology fossils buried just beneath the surface of most brownfield networks, like dinosaur bones at a prehistoric dig.
But if Rakuten does manage to attract more customers in the future, its energy use is presumably going to rise. Even if its equipment is more energy-efficient than a traditional telco's, Rakuten is also blanketing Japan with thousands of small (edge) data centers – far more than most brownfield networks have deployed. The rationale is about cutting latency and boosting performance, but Rakuten spends more on data centers and transmission than a traditional telco, it acknowledged in slides published late last year.
Rakuten also appears heavily reliant on Intel, a chipmaker not known for its power-efficiency. To critics, this remains one of the main drawbacks of Rakuten's virtualized radio access network (vRAN), which substitutes Intel's general-purpose processors for the customized silicon found in a basestation built by the likes of Ericsson, Huawei and Nokia.
---
Want to know more about 5G? Check out our dedicated 5G content channel here on Light Reading.
---
The expense implications are hard to fathom while Rakuten serves only about 5 million customers, and with vRAN (or cloud RAN) still accounting for a small share of the overall mobile infrastructure market. Conceivably, Rakuten can offset costs elsewhere. But Ericsson, despite investing in cloud RAN (with Intel as partner), continues to regard energy efficiency as one of the key advantages of traditional kit.
"There is an element of cloud RAN being very fit for purpose in certain deployment scenarios," said Fredrik Jejdling, the head of Ericsson's networks business. "In bigger macro environments with high traffic loads, the tight integration between radio and baseband and the software interplay between them gives an energy advantage today, but it doesn't take away that cloud RAN is a very good complementary architecture."
Carbon, carbon everywhere

Regardless of all this, Rakuten owed just a fifth of its energy consumption to renewable sources in 2021. The figure had inched up from 19% the year before, and yet Rakuten's goal – as described in the annual report it published last year – was to reach 100% "by 2023," which seems to mean the end of 2023. The plan, essentially, is to buy lots of certificates guaranteeing the renewable origins of the electricity. Rakuten aims to be "carbon neutral" by the same date.
Yet this carbon neutrality, supported by the purchase of certificates, would cover only Scopes 1 and 2, the categories over which Rakuten essentially has control. Scope 1, as defined by Deloitte, refers to emissions "a company makes directly" – by running boilers and vehicles, for example. Scope 2 is "indirect" emissions, such as energy bought to cool basestations.
There is no mention in the carbon-neutral plan of Scope 3, the emissions generated by Rakuten's suppliers and customers. And Scope 3 is the biggie. For Rakuten, it nearly doubled in 2021, to 1.9 million tonnes of carbon dioxide, and it represented a staggering 89% of the emissions total.
What's more, for the purposes of the carbon-neutrality plan, Rakuten is using market-based accounting to measure Scope 2 emissions. The system is controversial, relying heavily – in some cases – on the purchase of certificates that sometimes (reportedly) show emissions are falling when they aren't.
Location-based accounting, an alternative preferred by climate activists, uses data from the local grid to work out emissions. Rakuten did include both systems in its 2021 annual report, and the difference in results is stark. Market-based accounting put Scope 2 emissions that year at less than 170,000 tonnes of carbon dioxide. With location-based accounting, this rises to more than 241,000. Sustainability could do with more clarity.
Related posts:
— Iain Morris, International Editor, Light Reading