12:55 PM -- Motorola Inc. (NYSE: MOT) and Cisco Systems Inc. (Nasdaq: CSCO) make up the U.S. digital cable box and security "duopoly," so it's only natural to assume that they are eager to maintain that lucrative position as the Federal Communications Commission (FCC) asks questions on how the Commission can help drive "innovation" in the video device market. (See Whither the CableCARD?)

So evidently common are their interests on this matter, that both companies filed a joint ex parte yesterday to briefly describe a meeting they held with Commission members and their combined "support for the Commission's broadband deployment and adoption goals," and to what extent navigation devices can help make all that happen.

And they took it one step further, submitting a document with the logos of both companies, showing that (gasp!) we CAN all just get along!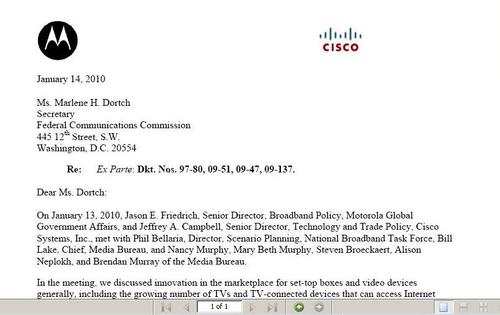 But it's really no big surprise. The official comments Moto and Cisco filed on the FCC matter in December were virtual carbon copies, as both suggested the FCC go ahead and start up a separate set-top proceeding rather than latching it to the National Broadband Plan. (See The Set-Top Files (Part II) .)

— Jeff Baumgartner, Site Editor, Cable Digital News