NEW ORLEANS -- The Cable Show -- When it comes to developing home-side digital-to-analog gear for cablers, Cisco Systems Inc. (Nasdaq: CSCO) has turned a double play of sorts.

Not only does it have a digital terminal adapter (DTA) in development, but it's also got a bigger gateway product targeted to apartment buildings and powered by silicon from a startup called BroadLogic Network Technologies Inc. . (See our profile.)

As we mentioned earlier this week, Cisco was among a handful of vendors at The Cable Show displaying DTAs, a new class of inexpensive one-way devices that Comcast Corp. (Nasdaq: CMCSA, CMCSK), and likely several other operators, will use as part of all-digital migration efforts. (See DTAs on Parade and Comcast Confirms Digital Dongle Project.)

We did a drive-by on Monday at the Cisco booth to take a pic of its entry, the DTA 50. On Tuesday, Dave Clark, director of product strategy and management for Cisco's newly christened Service Provider Video Technology Group, offered us a few more details.

The first one: Cisco hasn't gotten any orders for it yet, so the DTA 50 hasn't developed much beyond the device's initial form factor. In fact, Thomson S.A. (NYSE: TMS; Euronext Paris: 18453)'s demo was the only one we could find that was actively changing TV channels.

"We've got no firm commitments on this box," Clark says. But it's a pretty simple technology, meaning it would take Cisco just four to six months to get from here to volume production.

Another nugget: There are no plans (yet) to include conditional access (CA). That's important because the DTA has to pass the smell test at the Federal Communications Commission (FCC) and be limited enough in function to sidestep the separable security ban that went into effect last July. (See Countdown to 'Seven-Oh-Seven'.) Still, multiple people familiar with the project tell Cable Digital News that the encryption subject is still under debate, and there are talks of a level of encryption that isn't a full-blown CA system.

Given that the FCC has given preferential treatment (in the form of set-top waivers) to operators that have pledged to go all-digital by the February 2009 transition, and that DTAs closely mimic the function of over-the-air digital-to-analog converter boxes that are subject to the government-subsidized coupon program, there was significant optimism on the floor this week that the agency will give cable's DTA approach a pass. Besides, the DTA isn't all that different than digital TV sets with baked in QAM tuners. But this is the FCC and the cable industry we're talking about, so who knows?

Side note: Pace Micro Technology did not have a DTA model out in the open for all to see at its booth, but operators we spoke to confirmed that the supplier had a version to gawk at behind closed doors. Evidently, it looked much like the others we saw, and nothing like this thingy.

Cisco's other D-to-A thingy
Considering that Cisco's already an investor in BroadLogic, it's no big surprise to see Cisco sporting a bigger D-to-A gateway product -- the Digital Services Access Manager (DSAM) MDU -- that uses the startup's TeraPIX chipset.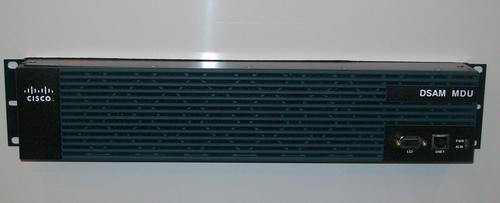 The 2-rack unit device, as the name suggests, is targeted to multiple-dwelling units (MDUs), and it can block-convert up to 79 analog channels. By comparison, a BroadLogic-powered unit from Funai Electric Co. Ltd. (OTC: FUAIY) will likely be used to convert incoming digital video signals to analog on the side of individual homes.

Cisco's version is designed to simultaneously demodulate 16 QAM channels. MDU owners will have access to two auxiliary inputs so tenants can access things such as electronic bulletins and security camera feeds. Cisco expects to have sample quantities available by year end, with production starting in the first quarter of 2009.

Initially, the DSAM MDU will bake in Cisco's PowerKEY conditional access system, but the company is also working on a CableCARD version that can house 10 of the removable security modules.

— Jeff Baumgartner, Site Editor, Cable Digital News