Cisco, Alticast Box Up Videotron Deal

3/28/2012

Comment (3)

Welcome to the cable news roundup, Hump Day edition.


Cisco Systems Inc. (Nasdaq: CSCO) insists that it's committed to the set-top box market, and it has found a believer in Videotron Ltd. The Canadian MSO has selected Cisco's Explorer 500-Gigabyte Explorer 7642 HD-DVR and 4642 HD boxes to run illico TV New Generation, a new video platform that features a menu of apps and widgets (music, weather, voting and polling, among them), and a faster navigation system. Alticast is supplying the tru2way middleware stack and apps for the boxes and serving as the prime integrator for the Videotron project. Videotron has about 1.34 million digital video subs. (See Why Cisco Wants Out of Set-Tops (Or Not).)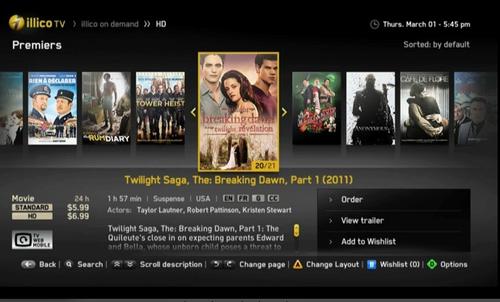 DSL Reports shared a screenshot Tuesday from a Cox Communications Inc. customer that appears to hint that the MSO is working on a new usage-based broadband policy that would complement or replace its current policy, which applies a monthly cap on excessive usage, but doesn't charge extra once users exceed it. A Cox spokesman said the info was posted in "error" and that it is removing the language from the site, noting that the MSO's policy has not changed. At least not yet. "[W]e do not currently charge customers for exceeding bandwidth allowances," he added. (See Cox Boots Up Its Bandwidth Meter .)


Rogers Communications Inc. (Toronto: RCI), Canada's largest MSO, is deploying a VoD ad platform based on BlackArrow Inc. 's Advanced Advertising System that's capable of splicing in spots dynamically before, during and after the on-demand program. Rogers began deployments earlier this year, and expects to complete it in all markets later in 2012.


Time Warner Cable Inc. (NYSE: TWC) has tapped mPortal Inc. 's Springboard software client to power the MSO's My TWC mobile application for Android and iOS smartphones and tablets. The My TWC app lets customers access and manage their accounts, including the ability to check their balances and pay bills.


Invidi Technologies Corp. has landed a patent (No. 8,146,126) that describes how viewers can request more information about an advertised product using their remote controls. Canoe Ventures LLC , the MSO joint venture, recently scuttled its national request for information (RFI) ad efforts in favor of video-on-demand advertising, though cable operators will continue to run interactive RFI campaigns on the local level. (See Cable's Canoe Sinks Interactive Ad Business .)


Aurora Networks Inc. 's Remote QAM module came away as the "Technology Most Likely to Succeed" at this week's Society of Cable Telecommunications Engineers (SCTE) Canadian Summit in Toronto. Aurora's idea is to distribute QAM capacity in network nodes rather than keeping it centralized in the headend, claiming it simplifies operations and reduces capital expenses. (See Aurora Plugs In Remote QAM.)

— Jeff Baumgartner, Site Editor, Light Reading Cable





(3) |