At the Huawei Global Analyst Summit on May 20, 2020, the IoT Session brought together more than 40 global principal analysts, demonstrating Huawei's end-to-end (E2E) products, solutions, and service capabilities in the Internet of Things (IoT) domain.
Fang Xiang, Huawei's LTE FDD Product Executive, delivered a speech entitled "CIoT Powers Industry Upgrades and Enables New Growth of Digitalization". CIoT refers to cellular IoT. Mr. Fang believes that CIoT will provide a solid foundation for building a fully connected, intelligent world in the 5G era.
Main points of Mr. Fang's speech:
 CIoT has completed initial-stage accumulation and is entering a new phase of extensive progress
 Industry applications are advancing to a new stage in China and gaining a strong momentum outside China
 Multiple initiatives stimulate concerted efforts to drive CIoT growth further
By the end of January 2020, the number of global NB-IoT connections had exceeded 100 million, with the number of connections also exceeding 100 million in China by the end of February. Also in February, the smart fire control solution based on NB-IoT was awarded with the GSMA GLOMO for "Best Mobile Innovation for Smart Cities". All these achievements showcase that NB-IoT has received broad recognition across the industry.
After endorsement in July 2019 by 3GPP as a candidate technology for 5G or 5G Massive Machine-Type Communications (mMTC), NB-IoT has been approved by the International Telecommunication Union (ITU), progressing toward becoming part of the 5G standards in 2020.
Technological evolution with a definite direction constitutes the cornerstone of strong confidence in sustaining the industry development. With Release 14, NB-IoT has already outperformed 2G in all aspects, while with Release 15 and Release 16, NB-IoT has been architecturally incorporated into 5G. A new record will be set again soon in Release 17, expected to substantially improve peak rates and mobility.
CIoT services represented by NB-IoT have gained scaled deployments earlier than other 5G applications. Commercial verification has concluded for a number of successful applications, which have already accumulated millions or tens of millions of connections, paving the path toward further large-scale promotion. The mature ecosystem and business practice that support the NB-IoT boom will provide valuable reference for future 5G applications.
Industry applications are advancing to a new stage in China and gaining a strong momentum outside China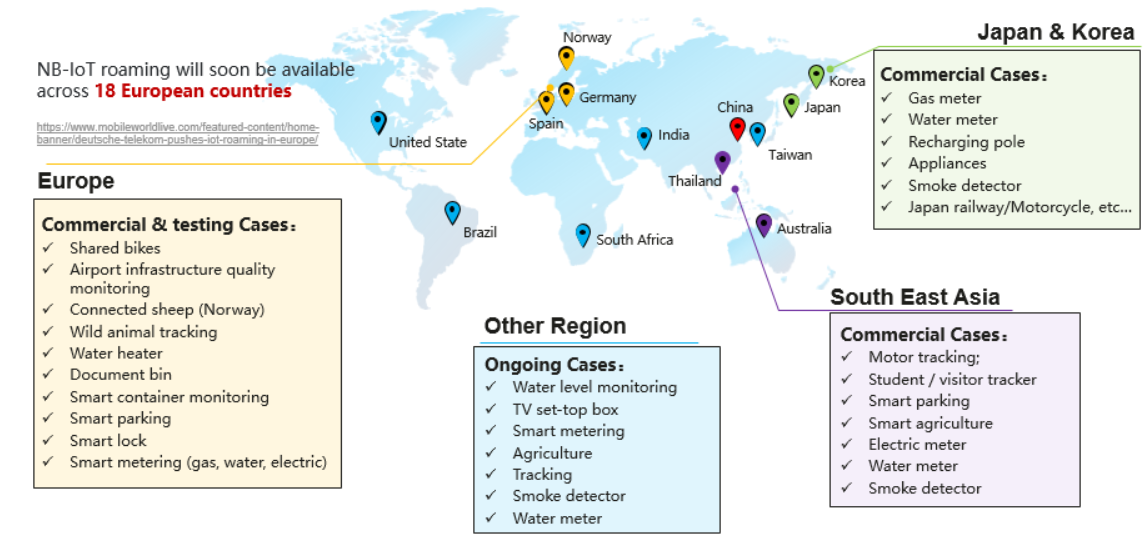 In China, NB-IoT has become the mainstay of many traditional IoT applications. The number of smart water and smart gas connections is steadily increasing to 20 million, with the related services expanding from simple metering to extensive pipeline monitoring. The accelerating phase-out of 2G and 3G networks offers the industry valuable opportunities to shift traditional mainstream IoT applications to the 5G NB-IoT technology. To date, multiple 2G-powered IoT applications have completed NB-IoT solution verification, such as POS machine, bicycle sharing, and car tracking. Emerging applications, such as door status sensor, infrared thermometer, vehicle financing, gas alerting, and charging socket, are also expanding in the market.
In markets outside China, NB-IoT is evolving into a trending phenomenon. Across several countries, it has won milestone projects that will create millions of IoT connections according to estimates. For example, in Saudi Arabia's project bid involving the connections of ten million electric meters, more than half of them will be based on NB-IoT. In addition, Sweden's three major energy companies plan to replace millions of electric meters with NB-IoT over the next few years. Furthermore, in an interview with GSMA, Italian company Italgas made public its success in achieving a connection rate of 97% in 2G-inaccessible areas, with the advantages of NB-IoT further encouraging the company to replace one million gas meters in 2020. Other countries, including Germany, Belgium, Italy, South Africa, United Arab Emirates, Thailand, Australia, South Korea, Japan, and Brazil, have been vigorously implementing NB-IoT services.
Multiple initiatives stimulate concerted efforts to drive CIoT growth further
China has introduced several favorable policies to support the IoT industry development, including the recent New Infrastructure initiative. On April 15, 2020, a 5G NB-IoT industry summit was successfully convened, sponsored by the Ministry of Industry and Information Technology (MIIT) of China, calling for efforts to develop a new round of 100 million IoT connections in China. This summit attracted broad attention and inspired heated discussions both within and beyond the industry. The speakers believe the successive withdrawal of 2G and 3G means that NB-IoT will be the foundation for supporting a fully connected, intelligent world in the 5G era.
On May 7, 2020, MIIT unveiled its new supporting policy for promoting CIoT development, citing that CIoT will be an integral part of China's new infrastructure. It urged the industry to develop a coordinated CIoT ecosystem where NB-IoT focuses most on low-rate scenarios, 4G meets the requirements of medium-rate IoT and voice services, and 5G mainly concentrates on high rate and low latency services.
Supporting stimulus policies encourage successive responses from various local governments as well as industry downstream and upstream players. The price of NB-IoT modules is continuously decreasing, and is now already comparable to that of 2G modules. This is conducive to accelerating the E2E ecosystem maturity and further promoting the industry to enter positive business cycles of developments.
Conclusion
With years of adequate and comprehensive development, CIoT will soon witness a new round of explosive growth as the 5G era arrives. It will serve as a solid digital foundation for developing new infrastructure and new IoT. Huawei will stay committed to developing an E2E solution and partnering industry players to enable business success for customers.
This content is sponsored by Huawei.