A name can be a funny thing.

Especially if it's Gopi Gopinath.

The funny name is a hallowed American tradition. From Goody Garlick, the Wicked Witch of East Hampton, to Armand Hammer, the People's Plutocrat – a good laugh at a truly silly name has provided solace for many a citizen in troubled times. Heck, we even elected a President named Dick Nixon, of all things – and not once, mind you, but twice! (Talk about troubled times...)

So, as telecom descends further into its long, dark night of the soul, what better way to leaven the mood than to have some lighthearted fun with a few really unfortunate monikers? Where have you gone, Jag Bolaria? A nation turns its lonely eyes to you. Woo ooh ooh!

Now, we know what you're thinking: It's cruel – not to say, infantile, puerile, and oafish – to pick on people just because of their names. Didn't they suffer enough abuse in the schoolyard? We shouldn't kick these poor unfortunates while they're down, right?

Wrong! That's why they hired me.



Some of the names that are flung through my cage each day are simply so mind-boggling, so rib-tickling, so, indeed, toe-tapping, that I feel obliged to share them with you, Oh Best Belovèd. Some, it's true, simply suffer from their miserable, benighted foreign roots: No doubt, Pekka Kykkänen (of Liekki Oy!) barely raises an eyebrow in Helsinki, the Buenos Aires of the Subarctic. And Anil Gupta surely does not, on the Subcontinent, call to mind a hemorrhoid ointment.

But what, as they say, the heck? We're laughing at these people. Not with them.

So it is that Light Reading presents, for your mean-spirited amusement, Larry's Top 25 Funniest Names in Telecom. We urge you to enjoy them responsibly.

[Any resemblance between these names and those of actual telecommers, living or dead, is purely noncoincidental. The names have not been changed to protect the innocent. Nobody is innocent!]


25: Matt Massengill, Western Digital
Feels springtime fresh all day!


24: Phil Turtle, Turtle Consulting
Ably assisted by Benjy Bunny and Danny Duck.


23: Alistair Impey, Telstra Research
22: Ransom Love, Caldera
All models are 18 or older.


21: Hava Volterra, CyOptics
...is better than none!


20: Nir Zuk, OneSecure
Merciless Overlord of the Planet Mung.


19: Matt McCool, NorthStar Communications
And the Uptown Hep-Cats.


18: Yannick Teriierooiterai, Tikiphone
Does that come with fresh pineapple?


17: Riikamaria Paakkunainen, Wireless Entertainment Services Finland
I'd like to buy seventeen vowels, please, Vanna!


16: Detlef Spang, Equant
Spaaannnggg!


15: Gorka Uranga, EF International
Step right up! See him eat glass! Watch as he drives nails with his head!


14: Ultan O'Raghallaigh, Tsunami Photonics
The dance craze that's sweeping the Emerald Isle!


13: Canning Fok, Hutchison Whampoa
And yo momma, too!


12: Rusty Cumpston, Ciena

11: Harry Hamster, Xanoptics
Not to be confused with the popular rodent food.


10: Sabine Schmuck, ControlWare
So... you're related to the Schmucks of New Jersey?


9: Boonchai Bencharongkul, DTAC
Symptoms may include rash, palpitations, and explosive diarrhea.


8: Ferit Yegenoglu, Isocore
First, we skin and clean one medium-sized weasel...


7: Dick Sweatt, CloudShield
And who hasn't had that problem?


6: Johnson Agogbua, BroadBand Office
Anyone called "Johnson" is automatically funny. Anything else is a bonus.


5: Harry Quackenboss, BrightLink Networks
If it waddles like a boss and swims like a boss...


4: Nicholas de Quetville Le Querot Crapp, Goldman Sachs
Aw... the Hell with it...


3: Honest Hwang, 3C Tae Yang
Just what this country needs: a good, honest hwang!


2: Ofer Gneezy, iBasis
The mysterious eighth dwarf.


1: Dr. Lampros Kalampoukas, Xebeo Communications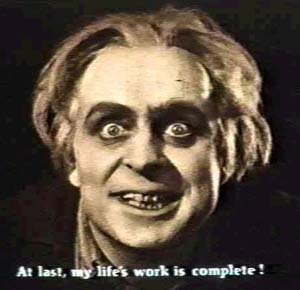 Happy Halloween, Boys and Girls!

Larry Larry bo Barry
Banana bana fo Farry
Me my mo Marry...



— Larry, Monkey, Light Reading
www.lightreading.com