Charter Adjusts Its Mobile Apptitude
4:30 PM --
Charter Communications Inc.
doesn't have a wireless service to call its own yet, but it'll have some mobile apps ready to go with it, should the MSO someday decide to pick a horse to ride. Until that day comes, Charter subs will just have to be happy staying in better touch with the MSO using their Apple and BlackBerry smartphones.
The MSO has launched a free mobile app for
Apple Inc.
(Nasdaq: AAPL) iPhone and iPod Touch devices and one for BlackBerry smartphones, which allow customers to connect wirelessly to Charter's TV and video-on-demand listings, some movie trailers, access to customer support, and email. Charter said it expects to add other features, including more streaming video and mobile service ordering, later on.
Fellow MSO
Comcast Corp.
(Nasdaq: CMCSA, CMCSK) has already developed similar apps for the Apple iPhone and iPod Touch platform, including a recent upgrade that allows subs (in some markets) to manage their DVRs remotely. It's still working on its application set for the BlackBerry platform. (See
Comcast DVRs Go Remote on the iPhone
.)
Here's a snapshot of Charter's Apple and BlackBerry apps: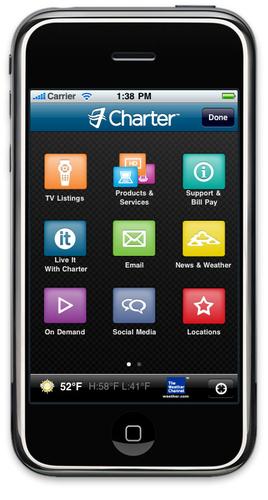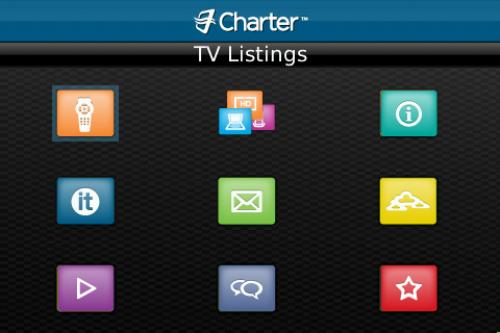 The MSO also spruced up its
Charter.net
with enhancements that allow customers to customize news, weather, and stock info, and provide one-click access to
Facebook
and the ESPN.360 service and a more detailed video-on-demand section.
— Jeff Baumgartner, Site Editor,
Light Reading Cable