Ceton Delays CableCARD PC-TV Tuner
Ceton Corp.
will start shipping specialized cable TV tuning cards that can transform Windows Media Center-enabled PCs into digital cable boxes in late May, a move that could give a boost to the flagging market for retail
CableCARD
devices. (See
Ceton Pitches Cable Set-Top Alternative
and
CableCARD Update
.)
Ceton kicked off a
pre-order program
on March 13 for consumers who want to get in on the first production run of the company's digital cable quad-tuner, which is now slated to start shipping on May 31, and carry a standard retail price of $399. [Ed note: Consumers still must lease the CableCARD directly from their cable operators. The modules typically cost $2 to $6 per month.]
The ship date's later than originally expected. Originally, Ceton anticipated shipments to begin sometime in the first quarter of 2010, but noted in an email that the push to a later date wasn't the result of "any single thing, but rather a handful of small issues that are typical in new product development."
Following a contest that drew more than 1,000 entries, Ceton has also finalized a brand name for its digital cable tuner product family: InfiniTV. The first four-tuner product out of the shoot is called, predictably, the InfiniTV4. Ceton is also developing a two-tuner CableCARD product for laptops that connect via USB ports, and a six-tuner version for PCs, but hasn't announced any launch time frames for those.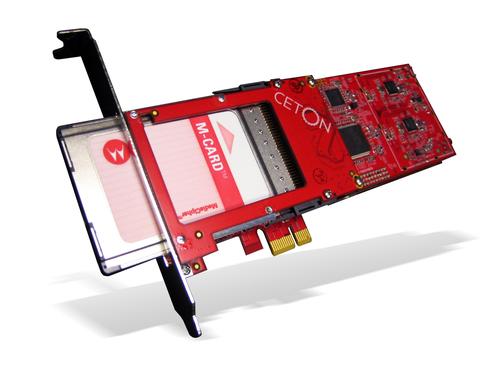 In the cable tech world, the InfiniTV4 is considered an
OpenCable Unidirectional Receiver (OCUR)
.
CableLabs
certification (testing alone costs $80,000) is required before Ceton can sell the product at retail. Ceton's not yet on CableLabs's
list (PDF)
of OpenCable-certified/verified products, but hopes to be soon.
Ceton chief marketing officer Ed Graczyk said his company intends to have the required CableLabs and
Microsoft Corp.
(Nasdaq: MSFT) certifications wrapped up before shipments begin. "Those are in progress now, and are going very well," he told
Light Reading Cable
in an emailed response to questions.
Ceton's four-tuner product, highlighted by Microsoft CEO Steve Ballmer at the Consumer Electronics Show in January, is capable of playing back or recording four simultaneous, high-definition TV channels when paired with one multi-stream CableCARD module and a signal RF cable connection.
The presence of a CableCARD authorizes the tuner to access the cable operator's broadcast video lineup, including digital channels as well as any premium channels the customer subscribes to. However, a separate Tuning Adapter is required for Ceton's product to access channels in an MSO's switched digital video (SDV) tier. (See
CableLabs Stamps SDV Tuning Adapters
.)
It won't, however, be able to access cable video-on-demand (VoD) services delivered to traditional digital set-tops. Ceton could do that by supporting
tru2way
, but the company has previously indicated that it won't try to adopt it until the market develops. At this point, the top six incumbent US MSOs are at various stages of getting their networks prepped for the common headend and set-top software platform. (See
Cable's Tru2way Build Continues
.)
PCs with the Ceton card will, of course, be able to access "TV Everywhere" content that
Comcast Corp.
(Nasdaq: CMCSA, CMCSK) and other MSOs are starting to make available to authorized, broadband-connected PCs. (See
Comcast's 'Xfinity' Goes Live
and
Comcast to Expand 'Xfinity' to DSL Subs
.)
Ceton isn't saying how may consumers have placed pre-orders for the InfiniTV4 so far. However, a few folks at
The Green Button
(the "official" site for Windows Media Center enthusiasts) note that they've already put in orders.
Although the CableCARD is central to Ceton's InfiniTV product strategy, the long-term future of the removable security platform is questionable. The
Federal Communications Commission (FCC)
hopes to spark the retail market for video devices using a network-agnostic "gateway" that could eventually phase out the CableCARD era. At the same time, the FCC is floating some new rules designed to "fix" and sustain the existing market for retail CableCARD products. (See
FCC Floats 'Simple' Gateway, CableCARD Rules
.)
— Jeff Baumgartner, Site Editor,
Light Reading Cable
PARTNER PERSPECTIVES
- content from our sponsors