LAS VEGAS -- 2009 International CES -- WiMax operator Clearwire LLC (Nasdaq: CLWR) is showing off a new way to get more wireless devices connected to WiMax.

The Kirkland, Wash.-based operator has tapped Cradlepoint Technology for a battery-operated router that takes a WiMax signal from customer premises equipment and pumps out a WiFi signal that can connect to as many as eight 802.11 devices in the house.

The operator hasn't announced the device yet but gave Unstrung a peak at its booth in the South Hall of Las Vegas Convention Center.

The device isn't hugely dissimilar to Cradlepoint's CTR350 Mobile Broadband Travel Router, except that it converts wireless signals, rather than connecting multiple WiFi devices to a wired USB connection.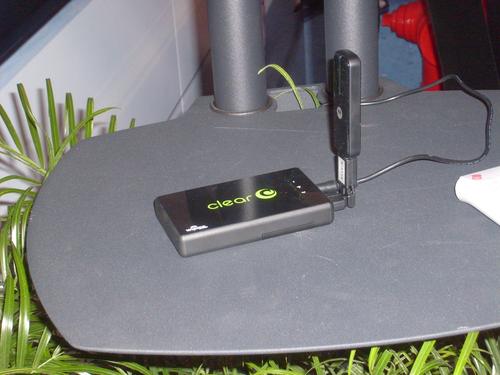 The device will connect "anything that takes a WiFi signal" to the wider-range WiMax signal, says Brad Stevens, Cradlepoint's carrier accounts manager.

This means that anything from business laptops to gaming devices and digital cameras will be able to connect to WiMax. Stevens also suggests that users could unwire devices in a car on the move with the tiny router.

This easy pathway is important to Clearwire as it tries to get as many users and devices as possible onto its young mobile WiMax networks in Baltimore and Portland, Ore.

The company is expecting to release the device in the "coming weeks." The Sidecut Reports blog says that the device will be priced at around $125 a box.

Motorola Inc. (NYSE: MOT) is also developing customer premise equipment that combines WiMax with a WiFi front-end radio. So far, however, Motorola is supporting 3.5 GHz WiMax on the box rather than the 2.5 GHz flavor that Clearwire is using in the U.S.

In other news, Clearwire was also showing Motorola Inc. (NYSE: MOT)'s thinner tabletop WiMax modem for its 'Clear' service. Here's a size comparison: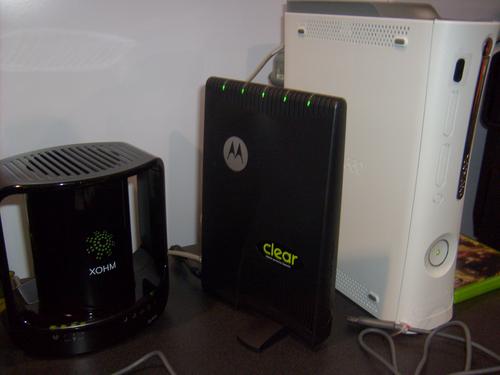 — Dan Jones, Site Editor, Unstrung