Amid a flurry of new iPhone models, Apple today announced it is adding Dual SIM support for two of them -- the iPhone XS and the iPhone XS Max.
"One thing we've had requests for is Dual SIM capability," Phil Schiller, Apple Inc. (Nasdaq: AAPL)'s SVP of worldwide marketing, said during the company's product unveiling event at the Steve Jobs Theater at Apple Park.
Dual SIM will be supported on the iPhone XS and XS Max (pre-orders start September 14 and hit stores on September 21) using a single physical SIM alongside the digital eSIM. An exception is China, where Apple can't offer eSIM in the iPhone yet. For that market, Apple has developed a special model of the iPhone XS Max that can support two physical SIMs (one can be placed on each side of the phone's SIM tray).
Apple plans to make Dual SIM support available via a free software update this fall, and its use will require two wireless service plans.
He outlined some use cases for Dual SIM, as some customers want to use two phone numbers (perhaps one for home and one for work on the same phone), or want different plans for different parts of the globe.
Schiller said Apple has been working with various carriers around the world to develop the standards for eSIM, noting that the technology is already shipping in iPads and Apple Watches with cellular capability.
Schiller didn't spend time outlining them all, but the screen behind him did reference carriers such as Truphone Ltd. , EE , Verizon Wireless , T-Mobile, Airtel, Reliance Jio , Deutsche Telekom AG (NYSE: DT), Vodafone, GigSky and Bell.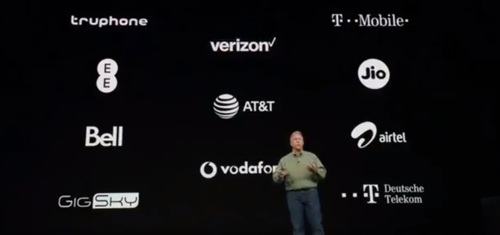 Out in the Twitterverse, meanwhile, T-Mobile US Inc. CEO John Legere couldn't help but to weigh in on the implications (at least when viewed through his lens):
I love that @apple is offering dual and eSIM in the new #iPhones – it makes it easier to try and move between providers, which is fine with me because everyone wants to switch to @TMobile! #AppleEvent

— John Legere (@JohnLegere) September 12, 2018
But eSIM technology isn't bereft of controversy. The U.S. Department of Justice is investigating whether AT&T and Verizon might have colluded to stifle it because it could make it easier for consumers to switch providers. That probe comes after a similar one was conducted in 2016, and later scuttled, after investigators found "little evidence for the claim," according to The Washington Post.
— Jeff Baumgartner, Senior Editor, Light Reading