DALLAS -- While nearly all the talk around machine-to-machine (M2M) communications is focused on the Internet of Things (IoT), the M2M traffic flows causing havoc in carrier networks today are the unpredictable and often massive workloads running between data centers, says Steve Vogelsang, CTO at Alcatel-Lucent's IP Routing and Transport business.
The solution to that increasing challenge could well be SDN, he adds.
The Alcatel-Lucent (NYSE: ALU) exec, who is in town to speak at the MEF 's Gen15 event, tells Light Reading that the networks of AlcaLu's service provider customers are already being impacted by significant changes in traffic patterns from data center interconnection. As more applications come on line and tap into the cloud infrastructure and as data is stored in more places, the network becomes essential to maintain interconnections. And unlike the flood of video traffic that is also weighing on their networks, this M2M trend can't be addressed by building out a smarter edge network and caching content there.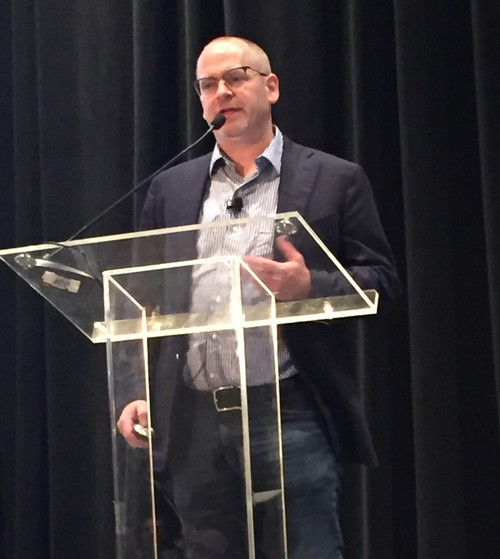 Between data centers, "you are now dealing with workloads that are all automated," Vogelsang notes. "Some of these are enormous large-scale data analytics, or they are moving an enormous amount of information back and forth doing database synchronization, or doing other applications that don't involve human beings. The traffic patterns for those workloads are completely unpredictable. You don't know when it is going to start, it is hard to tell what kind of volume it needs for the network -- and that is really one of the catalysts and drivers for SDN."
Currently, service providers are often selling dark fiber to interconnect data centers, so they aren't always aware of the workloads, he notes. "What their customers are asking them for are services that are auto-provisioned and available on demand," Vogelsang says. SDN and, in AlcaLu's case, its Network Services Platform, is designed to allow the network to respond automatically to the change in workload demands.
"The idea is to get the network to respond and re-optimize itself as these fully automated workloads change," he comments. "We need to make sure we get the technology in place at the IP layer and the optical layer to automate all aspects of how we manage traffic as the workloads are being fired off."
---
Take a closer look at Ethernet service strategies in our Ethernet services section here on Light Reading.
---
The Network Services Platform combines the IP and optical layer, and has the ability to understand network utilization and to expose applications programming interfaces that allow customers to reconfigure and manage how their data center sites are interconnected, to support dynamic compute-driven workloads as needed.
Bandwidth on demand (BoD) is what is considered the common approach but Vogelsang admits there are business model issues around the classic BoD approach from this standpoint: Service providers see this as an advanced service and want to increase their revenues, while enterprises view BoD as a way to pay only for what they use and want to actually spend less.
"So the issue is, how do you do both?" Vogelsang queries. "One of the capabilities we see there is bandwidth calendaring, which allows you to start planning for the future, mapping out the workloads. Enterprises sign up to buy bandwidth in future contracts and service providers have better visibility into what they've sold and can plan more efficiently. We think this ultimately solves that [revenue/cost-cutting] equation."
A lot of the talk in Dallas is around the MEF's Lifecycle Services Orchestration (LSO) initiative, designed to bring more dynamism to the Ethernet services market. Alcatel-Lucent is involved in that effort, but its contribution is more on the side of "making the job of the OSS a lot simpler," Vogelsang says. That's accomplished by extracting the network and exposing higher-level objects to the OSS, instead of expecting it to track each piece of equipment through an element manager.
"With SDN, we are abstracting the lower-level elements and we are taking that abstraction and doing that in the SDN layer, so what is exposed to the OSS is a higher-level service object that effectively reflects the intent of the service in a very simple way," he comments. "It drives the network into the state the OSS requires."
In Dallas, Alcatel-Lucent is also sharing some real-world use cases of customers using SDN technology to pull together the IP and optical layers and deliver a service -- something the company admits is still in its early days. And there is news here as well, as AlcaLu is one of the six vendors that has passed MEF's CE 2.0 certification for its 100G products. (See MEF Unveils First Six 100G CE 2.0 Certified Vendors.)
— Carol Wilson, Editor-at-Large, Light Reading