AUSTIN, Texas -- Big Communications Event -- Carriers are pushing the limits of network standardization, but they need to be sure to avoid standardizing too soon and stifling innovation.
"Extensibility is where the magic happens," Pascal Menezes, MEF chief technology officer, said on a panel here Tuesday.
Extensibility means standardizing APIs but leaving room to add more information. For example, the industry might standardize APIs for "get account," which retrieves financial information and permissions, but later find that it makes sense to also retrieve social relationships -- the user's connections on social networks. "You need to be sure when you're defining the base you leave room for additional components," Menezes said.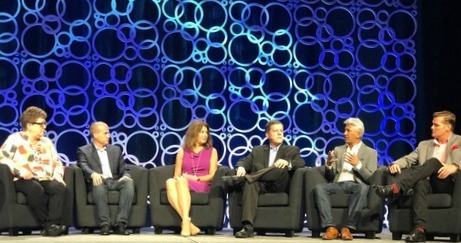 "There's a lot going on. Standardization tends to freeze things," said Dr. Ron Marquardt, Sprint vice president of technology. For example, a year and a half ago, OpenStack proliferated on the cloud, while containers where just emerging. If the industry had formally standardized on OpenStack, it would have missed out on innovation.
Victoria Lonker, Verizon executive director for network and virtual solutions, agreed. "We don't want to stifle that innovation, and the ability for different companies to offer different solutions that are differentiated for different customer needs," she said.
---
Want to know more about SDN? Visit Light Reading's SDN Technology content channel.
---
Standards are maturing in connectivity, but standardized services via network functions virtualization (NFV) are further away, said Andrew Dugan, Level 3 Communications chief technology officer.
Open source and formal standards will complement each other, panelists said. The standards process is slow and open source can help inform it, Marquardt said. The industry went from a heavy standards focus, to all open source, and back to the middle, Menezes said.

Carriers face a challenge when mixing intellectual property with standards and open source. In the US at least, it's difficult to patent software, so it's hard for service providers to share their own intellectual property and maintain competitive advantage, Lonker said. "We're developing our own IP. How do you take that IP and share it but keep it in house so it doesn't hurt your right to get to market quickly?" she asked.
To watch the full panel discussion, click on the video below:

— Mitch Wagner
Editor, Enterprise Cloud News