The current hype around connected cars is old hat to Formula 1 racing team McLaren-Honda and technology partner NTT Communications. They are gearing up to handle nearly 100GB of transmitted data from the McLaren race car at the US Grand Prix in Austin this weekend.
NTT Communications Corp. (NYSE: NTT) has partnered with McLaren since 2016 to migrate the medium-sized company's data from on-premises to the cloud and move from legacy connectivity to a NFV-enabled enterprise WAN. NTT provides WAN and NFV services to McLaren in several countries including the UK, Spain, US, Singapore and Japan. (See McLaren-Honda Picks NTT Comms.)
Race weekends are a critical time for both the McLaren-Honda F1 team and NTT -- up to 100GB of data is transmitted from about 200 sensors and cameras embedded in the race car to McLaren's engineering team at the McLaren Technology Centre in Woking, England.
"A team like McLaren -- they generate a lot of data at the track," Chris Davis, senior marketing director for NTT Americas. "In fact, they like to call their car one of the fastest, most sensor-deployed IoT devices on the planet because they have several hundred sensors on this car."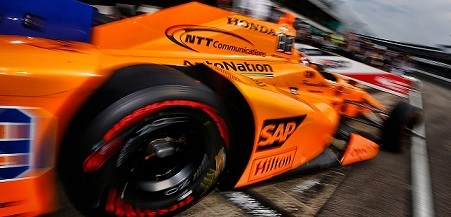 The McLaren team in Woking analyzes data on weather, the engine, on-board video, brakes, gearbox, suspension, fuel and more and works in tandem with the race-site team to quickly recommend new racing strategies.
"They can send data and make near real-time adjustments from their mission control center in Woking," says Davis. "This may include sending schematics down to their carbon fiber department for a new part that's fabricated on the spot and then sent to the track -- they can change out the part that quickly. They're looking to do everything and anything possible to better their lap times."
Over the course of a racing season, McLaren changes 80% of the parts of the car, adds Davis, which includes the built-in sensors transmitting data.
During races, the McLaren F1 team and Applied Technologies groups also utilize NTT's Cloud Management Portal, a cloud services and SD-WAN dashboard, to monitor and manage the IT infrastructure on site.
Earlier this month, NTT deployed its software-defined-everything (SDx) technologies for the first time in a track-side network to connect the Suzuka Circuit in Japan with UK-based McLaren Technology Centre during the 2017 Formula 1 Japanese Grand Prix, and transmit track-side data over NTT's SD-WAN and an existing MPLS circuit. Davis says the SDx technologies will also be utilized for McLaren in the US Grand Prix this weekend.
In preparation for races, the McLaren F1 team utilizes the MORSE simulation engine which simulates the track environment and provides instant feedback if a driver goes off track while attempting to make a turn, for example. Davis says the simulator leverages NTT's Enterprise Cloud to provide the compute elements and complete simulations up to 25% at time-critical points on the race track -- on tight track turns, for example.
McLaren announced in September that its partnership with Honda on its race car engine will end after the 2017 season, and McLaren will start a three-year engine deal with Renault starting in 2018.
According to an article by ESPN, "After two and a half seasons of underperforming, in-fighting and general disappointment, McLaren's relationship with engine supplier Honda will terminate at the end of the year." However, the end of the McLaren-Honda partnership won't affect McLaren's technology partnership with NTT, says Davis.
— Kelsey Kusterer Ziser, Senior Editor, Light Reading