32 Regional Telcos Buy Codero Cloud Hosting
A consortium of 32 rural and independent service providers is buying cloud provider Codero Hosting, planning to use the investment to beef up their business offerings.
Codero sees the sale to BLM Acquisition Corp. as providing a channel for Codero services. "It isn't just about the money. There's a lot of money to be had if it's about money," Emil Sayegh, Codero president and CEO, told Light Reading. (See Codero Hosting Acquired By 32 Regional SPs.)
"We just added 32 channel partners with vast resources, millions and millions of customers, thousands of feet on the street, millions of square miles," he says.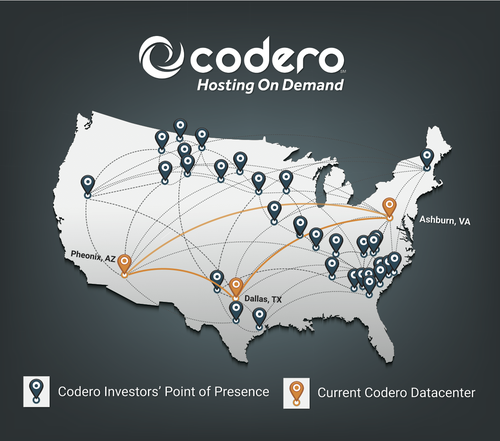 "We will be putting data center footprints in their locations to enable them to serve customers better," he says.
Codero's investment in SDN technology is a big part of the appeal, Sayegh says. "We're able to put a minimal footprint at their locations," he says. The investment will help bring services such as video and the Internet of Things to smaller cities. "We will be developing products for all these non-NFL cities." (See SDN Drives Codero's Flexible Hybrid Clouds.)
Localized data center technology of about 5,000 square feet will be used for latency-sensitive applications such as video telephony and audio surveillance, and local government services that want equipment located locally, including emerging police bodycam video, Sayegh says.
Sayegh will stay on as CEO, and become chairman and president. The board will consist of eight people, with four from the investment companies.
The consortium doing the acquisition, BLM, was founded by Bill King, president of JSI Capital Advisors, which provides investment services to rural and independent telcos, along with Leo and Manny Staurulakis, principals in John Staurulakis Inc., which provides business management and regulatory consulting to rural and independent telcos. The three men set up BLM and recruited the 32 service providers to buy Codero.
The new buyers include:
The Horry Telephone Cooperative, in Horry County, S.C., largest telephone coop in the country
Golden West Telecommunications, which serves about a third of South Dakota
Hiawatha Communications, serving the upper peninsula of Michigan with Peninsula Fiber Network
Dakota Carrier Network, a fiber network in North Dakota owned by rural telephone companies and cooperatives
USConnect Holdings, which owns seven different telcos in Texas, Colorado, Kansas, Nebraska and Georgia.
---
Want to know more about data center infrastructure? This will be just one of the many topics covered at Light Reading's second Big Telecom Event on June 9-10 in Chicago. Get yourself registered today or get left behind!
---
BLM sees the acquisition as a means of helping small phone companies make the transition from the old business model to more complex services. "The small telephone company industry -- who have been around in many cases 100 years or more -- their bread and butter has traditionally been voice," King told Light Reading. That's transitioning to VoIP, broadband, DSL and fiber.
The phone companies provide "boots on the ground" and detailed knowledge of their specific markets, King says. Codero provides technology expertise.
Financial terms of the deal were not disclosed.
— Mitch Wagner,

, West Coast Bureau Chief, Light Reading. Got a tip about SDN or NFV? Send it to [email protected]
PARTNER PERSPECTIVES
- content from our sponsors