For all the talk of disaggregating hardware in order to drive more network functions into software, there are still places where hardware convergence makes sense. At least that's what Calix believes, and the vendor has a validating partner in Verizon.
At the Calix Users Conference this week, the network equipment vendor publically introduced its AXOS E9-2 Intelligent Edge System, the very product that Verizon Communications Inc. (NYSE: VZ) selected when it announced its NG-PON2 lab trials in July.
In addition to the Calix solution, which Verizon selected as part of a Calix Inc. (NYSE: CALX) partnership with Ericsson AB (Nasdaq: ERIC), the telco also said that it's testing NG-PON2 technology with Adtran Inc. (Nasdaq: ADTN). (See Calix Eases Transition to NG-PON2 and Verizon Readies Landmark NG-PON2 Trial.)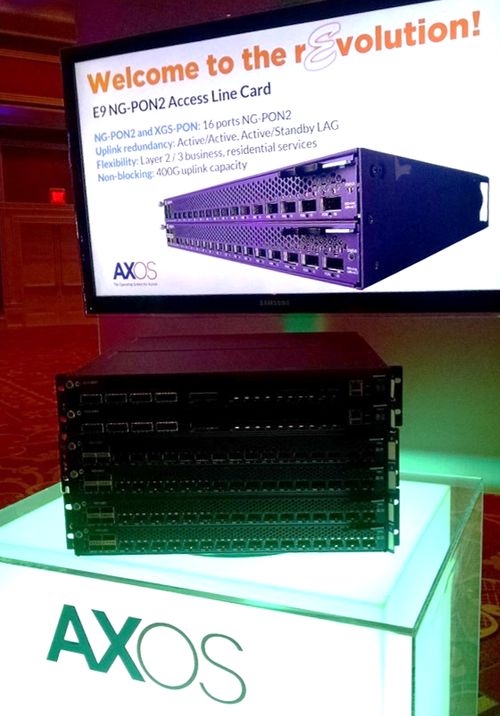 The E9-2 doesn't fall neatly into an existing product category. It's a high-density optical line terminal (OLT), but it also supports network aggregation and service edge functions including edge routing and subscriber management; something Calix claims that no other product on the market does today. The combination, according to the vendor, creates a "dramatic reduction in total cost of ownership (TCO)" by reducing the need for separate aggregation switches and by centralizing policy management. Among the TCO gains, Calix touts the E9-2's ability to diminish requirements for power, space and cooling.
Calix's solution, however, promises more than just greater efficiency in hardware. The E9-2 aims to flatten the telecom network, pushing more data-center-like intelligence to the telecom central office, and converging services -- residential, business and mobile -- on a single unified access network.
And that's where telcos may derive the greatest value. Verizon has already talked about deploying NG-PON2 for both business and residential broadband services, and it's made no secret of its 5G ambitions, which will require a significant fiber network foundation. By being able to use the same fiber networks for all three, Verizon will be able to maximize its capacity and presumably its profits.
"We see NG-PON2 and this concept of unified access as really this next step for PON," said Calix Vice President Shane Eleniak recently. "Traditionally, I run a residential network, a business services network and then a cell backhaul/mobile type of network. And I operate them as three independent networks. That's very expensive."
On the other hand, converging all three networks, according to Eleniak, has the potential to save operators a lot of money.
The E9-2 is designed to be modular and scalable, allowing telcos to support different network flavors, including NG-PON2, GPON and point-to-point connections on a single fiber. That too will help Calix customers deliver services more cost effectively because it will enable them to upgrade their technology only as needed rather than commit to the highest-performing version of PON for every service delivered over an individual fiber link.
Calix is targeting the E9-2 at larger telecom customers, including those like Verizon operating in major metropolitan markets. It's a shift for the vendor company which has traditionally served smaller and often rural telcos, but one that appears to be drawing positive reviews. CenturyLink Inc. (NYSE: CTL) is another of the tier-one operators on Calix's customer list, and the vendor expects that Centurylink will also look seriously at the E9-2. (See CenturyLink Plants G.fast Flag With Calix.)
---
The rollout of Gigabit broadband access networks is spreading. Find out what's happening where in our dedicated Gigabit Cities content channel here on Light Reading.
---
While hardware convergence is a crucial part of the story for the E9-2, so too is software, because, as Calix readily admits, service management is critical to making the solution cost-effective. For the E9-2, and for several of Calix's other edge devices, the company has enabled its AXOS platform architecture, or what it calls "the operating system for access." According to Calix, the platform offers componentized software and a "stateful always-on architecture," making the access network more transparent and allowing for targeted management and upgrades of different service elements. (See Calix First to Launch Software-Defined Access.)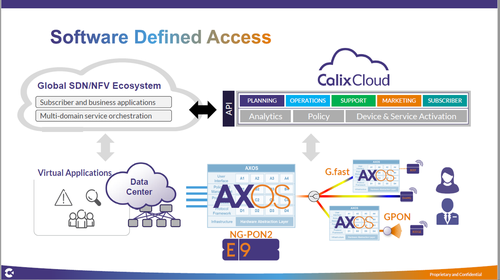 Importantly, even though AXOS runs on Calix hardware, it's not confined there. Hinting at a Calix future that may shift further into the software realm, AXOS can be implemented across virtually any standard x86-based hardware. It also communicates with the newly announced Calix Cloud suite of services, and with other open solutions in the software-defined networking (SDN) ecosystem. Calix exposes its AXOS APIs and uses Yang modeling to integrate with other SDN solutions.
Calix is up against some formidable competitors in the telecom access market, and even in the cable industry where it recently introduced its AXOS E3-2 Intelligent PON Node. (See Calix Unveils the AXOS E3-2 Intelligent PON Node.)
On the innovation front, Adtran recently launched its own software-defined broadband access platform known as Mosaic. In terms of sheer might, Calix also has to contend with the likes of Huawei and Nokia. (See Adtran Pieces Together a Software-Defined Access Mosaic and CORD Fuels Access Virtualization Push.)
In the most recent quarter, Calix posted revenue of $107.4 million, an increase of more than 8% over the $99.1 million it reported for the second quarter of 2015. The company's GAAP net loss for Q2 2016 was $5.8 million, which equaled its loss in the year-ago quarter but beat by a small amount the company's earlier financial forecasts.
— Mari Silbey, Senior Editor, Cable/Video, Light Reading