Comcast Packs More Powerful SD-WAN Punch

Comment (0)
Comcast is treading ever more boldly on traditional telco territory. Since getting serious about commercial services in the earlier part of the decade, the cable operator has turned that part of its company into a $6 billion annual business. And with the combination of faster cable broadband technologies and the trend toward virtualization, Comcast is gaining more ground on its telco competitors just as many customers are finding themselves in need of a connectivity upgrade.
It's all of these factors and more that have led Comcast Business to unveil its new ActiveCore software-defined networking platform. The platform includes embedded orchestration capabilities and is designed to support numerous virtualized network functions. The first of these VNFs is Comcast's own SD-WAN solution, but the company says over time it will onboard many new functions including ones from third parties.
"It [ActiveCore} is fully hosted and fully orchestrated. It is not a one-trick SD-WAN pony," says Kevin O'Toole, SVP of product management for Comcast Business.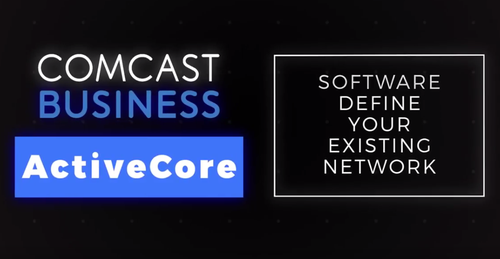 Comcast has been beta testing its SD-WAN offering since May, and O'Toole says the company's learned a thing or two about how it may need to adapt the ActiveCore platform from those trials. For example, O'Toole says that customers have been very interested in talking to Comcast about tying ActiveCore to their own existing management systems. Those conversations have Comcast considering integration with new partners that weren't previously on its roadmap. (See Comcast Woos the Enterprise With SD-WAN.)
As far as primary partners are concerned, Comcast is relying on Versa Networks for its orchestration capabilities and also for universal customer premises equipment, although the cable company says it's looking at other vendors for universal CPE as well.
For the SD-WAN solution, Comcast is pushing workloads down to the CPE so that the application runs locally even as orchestration comes from the cloud. Future VNFs will run either on premises or in the cloud as appropriate.
---
For more cable market coverage and insights, check out our dedicated cable content channel here on Light Reading.
---
One of the components Comcast is emphasizing with its ActiveCore platform is its customer experience interface. According to O'Toole, the company has specifically invested in that interface, developing its own mobile apps for customer use and building a software engine that gives customers a real-time dashboard view of their network and application performance. Right now, that engine sources data out of the SD-WAN application, but as more VNFs are added to the platform, it will harvest data from those applications as well.
Comcast also is positioning its lack of legacy technology in the business services market as a competitive advantage. Because Comcast doesn't have a legacy base of MPLS products and customers, O'Toole notes, the cable company can focus all of its sales and support resources on next-generation products and not worry about cannibalizing an existing revenue base.
Telecom operators, on the other hand, are "really big and they're really good at what they do ... but they are conflicted because they have a giant installed base of MPLS," he says. "Just like in past years they had an installed base of frame relay when everyone was talking about Internet, now they have an installed base of MPLS, and it can't help but cloud what they do or what they stand for in front of their customers," says O'Toole.
On the other hand, he adds, "You also have some small folks in the SDN space who are quite good, quite brainy, doing a wonderful job. But you can't escape the fact that they're small. In this moment we stand here as a large-scale unconflicted carrier who can stand in front of customers in a big way, stand in front of CPE manufacturers in a big way, run a very large hosted environment and yet not have to stumble through a minute on MPLS except to say we understand it's not going away overnight."
Comcast plans to ride that advantage as far as it will go. While the company has only named one customer publicly -- Jim Ellis Automotive Group with its 15 locations across the state of Georgia -- O'Toole says it has signed several more for the SD-WAN product. The cable company is also in active conversations with potential customers across a wide range of vertical industries from healthcare to retail, finance, hospitality and more.
— Mari Silbey, Senior Editor, Cable/Video, Light Reading