The word "orchestration" gets thrown around so much in telecom these days, it's no wonder that experts at Light Reading's recent Virtualizing the Cable Architecture forum at the SCTE/ISBE Cable-Tec Expo found themselves hedging against it with another word for describing how to control, link together and eventually automate virtual network functions.
Cable operators need to orchestrate VNFs, certainly, but before they can even do that, they need a common framework that allows everyone to speak the same language and move in the same architectural direction.
"Adopting a framework ... I think that's almost a foundational step that everybody has to take," said Steve Marsh, CTO for North America at Intraway Corp. , speaking at the workshop moderated by Heavy Reading analyst Alan Breznick. Marsh went on to explain the idea this way.
"We have all these systems. We've got them in the customer management layer. We've got them in the service management layer. We've got them in the resource technology layer." But when operators adopt a common methodology, "the solutions become a lot easier to discuss."
Instead of a unique environment within each MSO's network, Marsh added, "it's more like 'hey, if I can adopt this methodology, we're all sort of talking the same language,' and that I think is a really good first step."
Jeff Finkelstein, executive director of advanced technology at Cox Communications Inc. , agrees.
"Moving down the path without having the framework, you rapidly, in the context of the time we're dealing with, come to the realization that if you're not careful, you're not going to end up with this amorphous cloud entity that knows everything and does everything. You're going to end up with seven clouds," said Finkelstein. "So by starting with the framework ... you've got to have a basic design in mind that you can follow."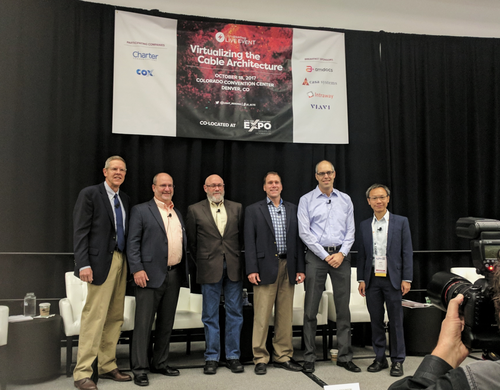 But what exactly should a cable virtualization framework look like? It's not clear anyone knows yet. But at the very least the framework must make it possible to introduce new technology -- both VNFs and orchestration technology -- into a cable network without breaking any of the surrounding systems. Cable operators will not rip and replace existing gear or legacy management software, so there needs to be an industry-wide understanding of how new technology can be plugged safely into what operators already have -- i.e. a common framework for having old and new systems work together in concert.
There also seems to be consensus that at least some of the initial work for developing a framework is already taking place through CableLabs .
SNAPS for short
CableLabs started an initiative last year called the SDN/NFV Application Development Platform and Stack project, or SNAPS for short. SNAPS is based on OpenStack, and the open source code is being developed to help accelerate network virtualization with a few specific goals in mind.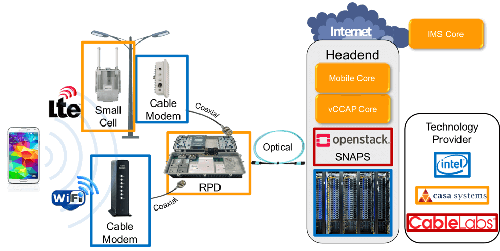 First, the software is meant to define ways to onboard new virtual systems. For example, in one test, CableLabs used the SNAPS platform to deploy a virtual CCAP core using a vCCAP from Casa Systems Inc. and hardware from both Casa and Intel Corp. (Nasdaq: INTC). However, SNAPS could equally be used to support VNFs and equipment from a wide variety of vendors, and the organization says it has in fact tested multiple vendors on the SNAPS abstraction layer.
Second, SNAPS is being used as a foundation for creating open infrastructure APIs. Toward that end, CableLabs has developed an OpenStack API abstraction library that it has also contributed to the Linux Foundation's Open Platform for NFV Project Inc. (OPNFV).
Third and finally, SNAPS is designed to make it easier to conduct integration testing. This is where CableLabs also brings an advantage through the interop testing labs it runs via its for-profit subsidiary organization Kyrio . (See CableLabs Sets Up NFV Interop Lab.)
"One of the luxuries we've had in cable in general is having CableLabs," Finkelstein pointed out, "because the interoperability that we have achieved at the specification layer for the network components has been unlike almost any other industry. It's not just guiding us through the process of writing the specs, but it's performing the tests."
A framework and beyond
Despite a number of unknowns today, there's a growing sense of urgency in the cable virtualization debate. Getting a framework in place will drive the implementation of new virtualized functions and lead to the first big payout for operators in this massive architectural upgrade: automation.
Automation promises greater cost efficiency, the ability to introduce new services faster and a way to manage increasing complexity as consumers place more and more demands on telecommunications networks. (See Heavy Reading: It's Simple – Automate or Die.)
"I think of it as we have control plane, management plane, data plane," said Finkelstein. "Virtualizing the control plane is what AT&T has done with a tremendous amount of work and some really brilliant people there with CORD, ECOMP, ONOS, and a whole variety of alphabet soups where they are breaking down and standardizing how communications are done in the virtualized environment. [Then there are] management plane things like TOSCA, OpenDaylight, using Netconf/YANG in ways that you can achieve control of virtualized elements, or real elements, physical elements."
All of those things, suggested Finkelstein, get operators to automation, "which is the big bang for the buck."
---
For more cable market coverage and insights, check out our dedicated cable content channel here on Light Reading.
---
"Automation," added John Dickinson, vice president of advanced commercial engineering at Charter Communications Inc. , "I think is step one for the cable operators."
But it's a step that's guaranteed to have multiple phases.
"In five years, I would say the framework discussion is behind us. I would say the orchestration discussion is behind us," predicted Intraway's Marsh. "We've started to break those shackles where when somebody says I want something in real time, or I want something that's zero-touch, or I really want to have the variety that my customer is looking for, that's no longer like a wish and a dream out into the future. It's something that you can actually go and do."
That's the goal. There is still much for the cable industry to accomplish in the meantime.
— Mari Silbey, Senior Editor, Cable/Video, Light Reading