VMware, Aryaka, Silver Peak and Cisco have maintained top positions in worldwide SD-WAN market revenue, but Huawei's SD-WAN revenue took a hit with only $1.8 million in revenue in quarter one, down 45% compared to quarter four, according to a new IHS Markit report.
Overall, SD-WAN revenue reached $162 million last quarter, an increase of 12% quarter-over-quarter and nearly double revenue in the first quarter of 2017. With the acquisition of VeloCloud in 2017, VMware Inc. (NYSE: VMW) is leading the market with 19% of first-quarter revenue or $31.6 million. Aryaka has 18% share ($29.1 million), Silver Peak Systems Inc. 12% ($20.2 million) and Cisco Systems Inc. (Nasdaq: CSCO) in fourth place with 12% ($19.5 million) share. Total SD-WAN revenue topped at $444 million in 2017, and is expected to reach $861 million this year. (See SD-WAN Revenue Reached $162M in Q1 2018.)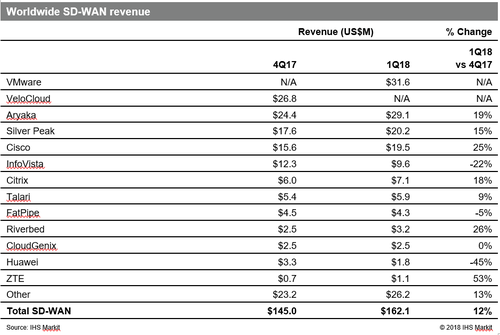 Cliff Grossner PhD, senior research director and advisor for cloud and data center at IHS Inc. , told Light Reading in an email that he might have expected a larger stall in revenue growth from recent acquisitions but VMware and Cisco continue to gain market share.
Grossner predicted in 2017 that the SD-WAN market would be a two-horse race between Cisco and VMware; "Long term, we still hold this view that the market reach of these two companies will allow them to dominate the SD-WAN vendor landscape from a revenue perspective," said Grossner in an email to Light Reading. "Short term, the integrations take time and training sales and channel are not immediate routes to revenue growth."
Vendors are also ramping up investment in analytics capabilities in their SD-WAN platforms, added Grossner, and application delivery performance and automation are key drivers to SD-WAN adoption according to primary research surveys by IHS Markit.
"Many SD-WAN vendors have begun to incorporate analytics, utilizing rich telemetry data, into SD-WAN management platforms -- enabling enterprises to monitor application traffic flow between multi-cloud environments," said Grossner in the report.
— Kelsey Kusterer Ziser, Senior Editor, Light Reading