GTT's Sahim: MPLS Is Not the Problem
DENVER -- NFV & Carrier SDN -- Although vendor interoperability is a long way off, service providers shouldn't shy away from jumping into the NFV and software-defined environment, said GTT's Kevin Sahim last week. Operators need to take action now and can't wait for the vendor, interoperability and open standards wars to resolve, he added.
In a presentation during the "Delivering on the Services Promise" session, Sahim, VP of engineering (managed services) for GTT Communications Inc. , explained that legacy WAN architectures have created barriers to interoperability as operators seek to develop a smarter enterprise WAN. Network complexity has always been an issue -- whether it's vendor interoperability from a hardware perspective or protocol interoperability -- and that challenge has been magnified by introducing the software-defined ecosystem, he added.
"Aligning business policy... doesn't always interoperate or translate well to network topology discussions," said Sahim. "Business requirements don't always translate to networking requirements or network engineers don't always understand, at the end of the day, what we're trying to do from a business perspective."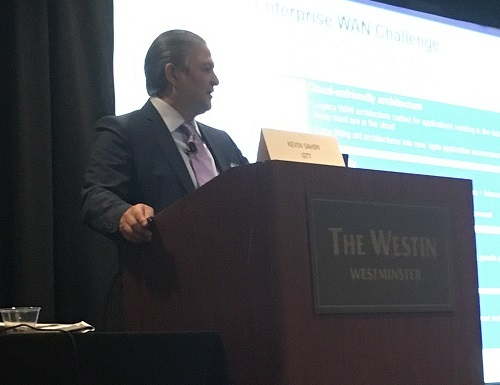 Service providers continue to face a range of challenges to developing a smarter enterprise WAN including vendor interoperability, delivering quality bandwidth and addressing new security concerns. The traditional WAN can't keep pace with the rise of bandwidth intensive applications and cloud-driven networking requirements, explained Sahim.
In building a smarter WAN, SD-WAN has emerged as an interesting use case in delivering an overlay network with more efficient control of network traffic management, application routing and bandwidth utilization, in addition to lowering WAN costs, he said.
Hybrid WANs and re-imagining the use of MPLS are also integral to delivering a smarter WAN, said Sahim.
"Integrating multiple WAN topologies is part of the solution, not part of the problem -- MPLS is not part of the problem. Re-envisioning how you utilize these topologies is the challenge, but not part of the problem."
In the end, customers are less concerned with who owns the underlying last mile, for example, than with who is providing the best service experience and delivering application assurances.
---
Get real-world answers to virtualization challenges from industry leaders. Join us for the OSS in the Era of SDN and NFV event November 1 in London. Register now for this exclusive opportunity to learn from and network with industry experts -- communications service providers get in free!
---
"Loss, latency, jitter -- those are network engineering terms, meaning many of the business and policy decision makers don't want to understand loss, latency or jitter," said Sahim. "They want to understand, 'Could I have actually processed 50,000 more pizza orders during the Super Bowl if my topology was running better, or if I was able to augment bandwidth on demand, or I was able to redirect the delivery guys in a more optimized fashion?' "
He added: "Interoperability is a long way off. The reality is you need to jump in feet first and get involved."
— Kelsey Kusterer Ziser, Senior Editor, Light Reading
PARTNER PERSPECTIVES
- content from our sponsors