LAS VEGAS -- Cisco Partner Summit 2018 -- Cisco is enhancing security, performance and programmability for its SD-WAN offerings, to help service providers build business by customize SD-WAN as well as making the SD-WAN more useful for enterprises.
The enhancements follow enterprises increasing need for secure, flexible connections over the public Internet. Previously, users accessing the public Internet were using it for low-priority applications, such as document sharing and social media, that were forgiving of inadequate performance and availability. But now, enterprises are running business critical apps in the cloud, requiring high availability, performance, and security. And employees connect over mobile devices from airport lounges, coffee shops... pretty much anywhere, Cisco Systems Inc. (Nasdaq: CSCO) says.
"As soon as you get online at Starbucks you've got that phone out and you're checking updates and seeing what's going on on WebEx Teams," says Scott Harrell, Cisco senior vice president and general manager, enterprise networking (making some giant assumptions about what anyone might do when faced with a Starbucks 'menu'). That kind of remote access places tougher demands on WAN accessibility.
SD-WAN is an increasingly popular enterprise connectivity option that is being pitched as a lower-cost, more flexible alternative to MPLS. And Cisco is now a market leader in SD-WAN, by virtue of its Viptela acquisition last year. (See Cisco Looks to $610M Viptela Acquisition to Simplify SD-WAN.)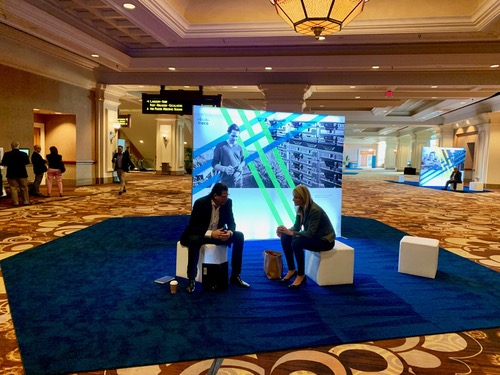 ---
Now entering its fifth year, the 2020 Vision Executive Summit is an exclusive meeting of global CSP executives focused on navigating the disruptive forces at work in telecom today. Join us in Lisbon on December 4-6 to meet with fellow experts as we define the future of next-gen communications and how to make it profitable.
---
For security, Cisco is integrating firewall, intrusion protection and URL filtering, as well as providing faster security deployment and greater visibility with the Cisco Umbrella cloud security service, the vendor announced Tuesday. Additionally, Cisco SD-WAN supports Talos, the company's cyber threat intelligence service, for threat detection. "We're making deployment straightforward and easy without deploying multiple consoles and management platforms," Prashanth Shenoy, Cisco marketing VP, enterprise networks, IoT, and developer platform, tells Light Reading.
And Cisco is partnering with Microsoft Corp. (Nasdaq: MSFT) to improve SD-WAN performance for connecting to Microsoft Office 365 by up to 40%, Cisco says.
To help telcos and service providers customize SD-WAN services for enterprises, Cisco is publishing, packaging and cataloging SD-WAN APIs, as well as offering training, use cases and hands-on learning labs through its DevNet developer education program.
"Whether you have vCPE or CPE, just through a software upgrade we can provide you with functionality," Shenoy says. "We're making it more easy to provide premium SD-WAN services."
Offering programmability and DevNet support addresses important business requirements for telcos and service providers. To succeed, comms companies need to customize SD-WAN and make it part of an overall portfolio of services. Service providers need to rise above just offering commodity SD-WAN without differentiation from other service providers.
On the hardware side, Cisco is also introducing two new Integrated Services Routers. The ISR 111X-8P is designed for the smallest enterprise branch offices, with built-in WiFi and LTE support. And the ISR 4461 provides a high-performance and scalable platform for connecting the biggest remote offices.
To streamline SD-WAN deployment, Cisco is introducing a new SD-WAN Quick Start service, providing remote implementation and training.
And for easier consumption, Cisco is integrating SD-WAN networking and security into a single license and single management interface.
In addition to the SD-WAN introduction, Cisco also launched another service Tuesday for telcos to offer to their enterprise customers. Cisco debuted introduced voice calling integrated with WebEx Teams, in partnership with a half-dozen communication service providers initially, with more to follow. (See Cisco Contemplates Cloud Calling & Claustrophobic Conferencing).
Meanwhile, Cisco's SD-WAN competition isn't sitting still. Nokia Corp. (NYSE: NOK)'s Nuage Networks business unit is updating its Virtualized Network Services platform to provide enterprises with connectivity across branches, data center and multiple public clouds.
Like Cisco, VMware Inc. (NYSE: VMW) sees SD-WAN as a key component in tightening its relationship with service providers as customers and partners, following its own big SD-WAN acquisition of VeloCloud last year. (See VMware Sees 'Enormous' Telco Opportunity, What VeloCloud Cost VMware , VMware to Acquire SD-WAN Startup VeloCloud, VMware Acquiring SD-WAN Startup VeloCloud Networks)
Silver Peak Systems Inc. , which bills itself as a "broadband and hybrid WAN" provider, scored a big round of funding at the start of the summer. (See Silver Peak Scores $90M Funding as SD-WAN Heats Up.)
And Cato Networks , which has a distinctive cloud-based, as-a-service approach to SD-WAN, upgraded its service to be more focused on business needs in July. (See Cato Builds Business Priorities Into SD-WAN .)
Service providers are turning to SD-WAN as a means of expanding their enterprise business. (See CenturyLink Goes Global With SD-WAN, How Some Service Providers Are Using SD-WAN the Wrong Way, Windstream Adds PCI Compliance to SD-WAN and Why SD-WAN Is Taking Off Now.)
Related posts:
— Mitch Wagner




Executive Editor, Light Reading