SANTA CLARA, Calif. -- Next-Generation Network Components 2014 -- Orange Silicon Valley's NFV guru preached a pragamatic approach to virtualization Thursday morning, saying he expects very early deployments to start in the second half of 2015 and increase through the end of the decade.
Christos Kolias, senior research scientist at Orange (NYSE: FTE)'s Silicon Valley subsidiary, said he expects operators to test the technology in new markets and "green projects."
"I don't see us going into our existing network and ripping out our Cisco boxes and replacing them with a white box anytime soon," he told the crowd.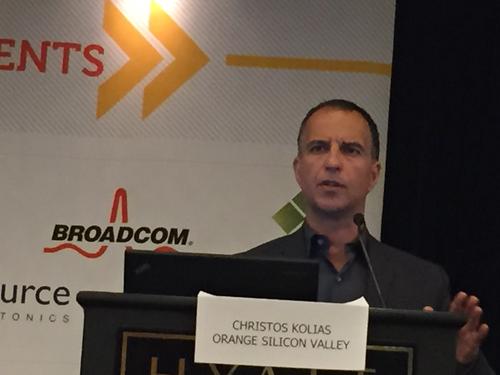 Rather, it will be a gradual process, with operators initially dipping their toes into the virtual world with very limited deployments in the second half of 2015, Kolias suggested. "There will be more widespread deployments in the second half of this decade.
"To me, NFV is all about how you can manage and orchestrate all these new virtualized appliances," he says.
---
Read about other carrier NFV strategies in the NFV section here at Light Reading.
---
He also suggested that NFV applications will initially be used to virtualize elements of operators network ahead of similar but different software-defined networking (SDN) technology. "NFV is a little bit more mature than SDN," Kolias said. (See Carriers Collaborate on Network of the Future.)
"To me, NFV is all about how you can manage and orchestrate all these new virtualized appliances," he said. This means shifting network functions to the software domain and running that code on "commoditized hardware." (See Defining SDN & NFV.)
SDN has further to go on the standardization path than NFV, Kolias suggested. "From our perspective as a telco, we'd like to see a standardized northbound interface," he said of ongoing work on SDN standardization. (See Cracking the Transport SDN Challenge.)
Another way to look at difference between NFV and SDN is that SDN evolved out of academia and is driven by the needs of the data center players, while NFV development has been largely driven by the service provider sector.
To this end, Kolias is a founding member of the European Telecommunications Standards Institute (ETSI) NFV industry specifications group (ISG). He is also responsible for the group's liaison with the Open Networking Foundation .
The ISG, which was founded early in 2013, is expecting to release documents based around phase 1 of its NFV work soon. "There's going to be another release coming up in December or January of next year," says Tolias.
The second two-year phase of work will begin in February 2015. It will focus on "interoperability" and "standardizing interfaces," the Orange man says.
All of this means that Kolias is more than credulous about vendors touting their wares as NFV-ready or compliant now.
"I'm not sure anyone can claim they are NFV compliant," he says. "We don't even have a program to become that."
— Dan Jones, Mobile Editor, Light Reading