Also in today's EMEA regional roundup: O2 confirms 5G timetable in UK; Telefónica, Deutsche Telekom and Orange report earnings; Telenor sells Serbian banking operation; why Russian soldiers can't have smartphones.
Ericsson has expanded on its existing commercial relationship with VMware with the signing of a five-year agreement that will see the pair work together to make it easier for service providers to deploy Ericsson applications on VMware's vCloud network virtualization platform. The agreement covers technical collaboration and interoperability testing across Ericsson's range of virtual network functions.
O2 has confirmed it will start the rollout of its 5G network this year in the UK's four capital cities -- London, Edinburgh, Cardiff and Belfast. The rest of the UK will follow from 2020, says the operator, as more 5G handsets become commercially available.
Telefónica, of which O2 is a part, saw its net profit for 2018 rise 6.4% year-on-year to €3.33 billion (US$3.78 billion), on revenues that climbed 2.4% (in "organic" terms) to €48.69 billion ($55.27 billion). Net debt fell by €2.45 billion ($2.78 billion) to €41.78 billion ($47.42 billion).
Deutsche Telekom is confident it can maintain its current rate of growth in 2019 after posting full-year revenues up 3.1% year-on-year, in organic terms, to €75.7 billion ($85.9 billion). Adjusted EBITDA was up by 5% to €23.3 billion ($26.4 billion). DT attributed its fall in net profit, however, to the one-time positive effect of US corporate tax reform in the prior year's results.
Group revenues at Orange were up 1.3% in 2018 to €41.38 billion ($46.97 billion), compared to a growth rate of 1.2% in the previous year. Adjusted EBITDA was up 2.7% in 2018, to €13 billion ($14.7 billion), compared to 2.1% growth the previous year. Despite this, Orange has lowered its outlook for EBITDA growth for 2019, a move it explains in part by a market that "remains very competitive, particularly in France and in Spain."
Norway's Telenor has completed the sale of its Telenor Banka banking arm in Serbia to Czech-based private equity firm PPF Group. PPF acquired Telenor's central and eastern European operations in 2018 for €2.8 billion (US$3.17 billion).
Dublin-based Openet has teamed up with CloudSense to offer something called Digital Edge, which Openet describes as a "digital services monetization solution" intended to help service providers manage and make money from their new-fangled digital services. Digital Edge combines Openet's charging and policy systems, CloudSense's "smart sales" platform and Salesforce.
The Hague is planning to be the first Dutch city to "switch entirely" to 5G, according its deputy mayor and the CEO of T-Mobile Nederland, who are collaborating on the project. Key to the plan, which is seen as a crucial stepping stone to making The Hague a full-on smart city, is the establishment of a 5G field lab where academic establishments and companies will be given the opportunity to experiment with 5G-based applications.
Russian soldiers will no longer be allowed to use smartphones whilst on duty, following fears that the use of social media by selfie-loving military personnel posted a security threat. As the BBC reports, the Russian parliament overwhelmingly backed the proposed law on Tuesday. According to the report, soldiers' social media data has been used by investigative journalists to shed light on cloak-and-dagger military activity by Russian forces.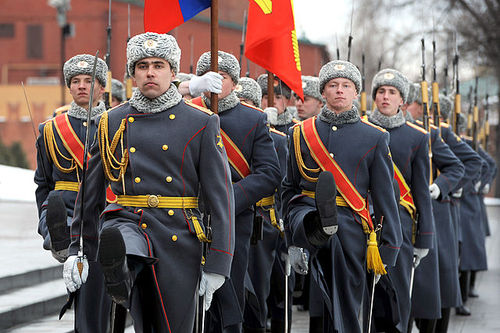 — Paul Rainford, Assistant Editor, Europe, Light Reading