Cable Seeks the Right Business Case for Virtualization

Comment (0)
Atlanta -- SCTE Cable-Tec Expo -- The push to more distributed architectures will also drive cable operators toward virtualization, but MSOs are still searching for critical business drivers that will justify major investments into NFV.
That was a big theme here Tuesday morning at a Light Reading-hosted breakfast panel Virtualizing the Cable Infrastructure.
"We sometimes get ahead with technologies just because we're technologists," Jeff Finkelstein, executive director of advanced technology at Cox Communications Inc. , said in opening comments before the broader panel discussion. "I'd like to have a business problem behind it… The dilemma is that there are so many activities going on around virtualization, but there's no center."
"You need a business driver," Don Clarke, principal architect of network technologies at CableLabs , agreed, noting that no service provider is going to switch out technologies just because it's new and shiny. However, he said there is an intersection that should drive new waves of investment in NFV, and that moment is underway as MSOs pursue a distributed access architecture (DAA).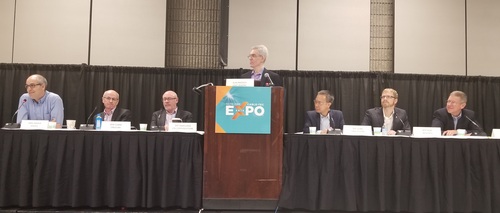 Those business reasons are what will cause operators to act on virtualization, said Steve Marsh, Intraway Corp. 's CTO, North America. Altering or overhauling the OSS and BSS layers and tackling a program with tentacles that reach into areas like billing and workforce management "are big decisions to make" and won't be made without a solid business use-case behind it, he said.
Though network virtualization trials are firmly underway, overall movement in this area among cable operator is moving slower anticipated as some are either waiting for the right solution or the right opportunity before jumping ahead," Oren Marmur, VP and head of NFV at Amdocs Ltd. (NYSE: DOX), said.
It's not a technology issue per se, but there are some challenges to overcome from an organizational standpoint concerning the new concepts and approaches that virtualization represents. "There's a lot of resistance to change," Marmur explained.
Pete Koat, CTO at Incognito Software Inc. , said his company is also involved with a growing number of lab trials, but all of that work has yet to have a big impact on bottom lines as the business drivers are being explored and sorted out. He also suggested that the fragmentation on approaches and standards are likewise hindering progress.
Casa Systems Inc. , a top supplier of cable access networking gear, is also seeing trials becoming more serious along with an influx of RFIs and RFPs tied to virtualization, but operators are also in need of a common framework, Jeff Leung, the company's head of cable products and services, said.
CableLabs is taking aim at that challenge with a working group focused on virtualization that is identifying and analyzing the standard bodies that are involved in projects critical to cable.
Cable, Clarke said, is in a unique position in part because it has organizations looking at these issues in a way that can be pulled together and span across the industry compared to the telcos, which don't work as a unified front. That situation, in part, has caused this proliferation and fragmentation of virtualization-facing standards.
CableLabs and its partners can "put a stake in the ground" with its reference architectures, Clarke said, noting later that his organization is working toward best practice documentation that should emerge in the early part of 2019.
In his earlier remarks, Finkelstein acknowledged that the cable industry needs a common virtualization framework so operators know which path to travel.
But in the meantime, virtualization is poised to enter the access network as operators and vendors start to size up a new Flexible MAC Architecture (FMA) that will push that functionality toward the edge of the network and also enable the broader system to support multiple transport layers, including DOCSIS, WiFi and PON.
He also believes that this push to the edge -- with both the PHY and the MAC -- will also create new services that, for example, will support low-latency applications and services that go well beyond simpler gigabit Internet data speeds. That, in turn, "takes us into that next real of a services-oriented network," Finkelstein said.
— Jeff Baumgartner, Senior Editor, Light Reading
PARTNER PERSPECTIVES
- content from our sponsors
GUEST PERSPECTIVES
- curated contributions