Can Telecom Business Services Bounce Back?
The mood at last month's MEF18 event in Los Angeles was surprisingly upbeat when you consider this event caters to the business services segment of the telecom industry and the news from that sector hasn't been all that rosy of late.
Consider the third-quarter results from AT&T Inc. (NYSE: T) and Verizon Communications Inc. (NYSE: VZ): AT&T's business revenues were down 7.9% year over year, or a more positive 3.6% when accounting changes are factored in, while Verizon Enterprise Solutions' revenues were off 4.0%. In each case, the growth of "strategic" services couldn't offset declining revenues on the more traditional business services side. That's a story that has been playing on, on rinse and repeat almost, for the last few years.
Some of that is the continued loss of business to cable operators, as both Comcast Corp. (Nasdaq: CMCSA, CMCSK) and Charter Communications Inc. grew their small to midsized business and enterprise revenues in the third quarter. Most of those new customers aren't yet consuming the higher-revenue services being discussed in Los Angeles, however, as even Charter's CFO, Christopher Winfrey, said on that company's third-quarter earnings call that while customer growth was robust, revenue growth had yet to follow. (See US Cable Set to Rake in $18B in Biz Services Revenues in 2018.)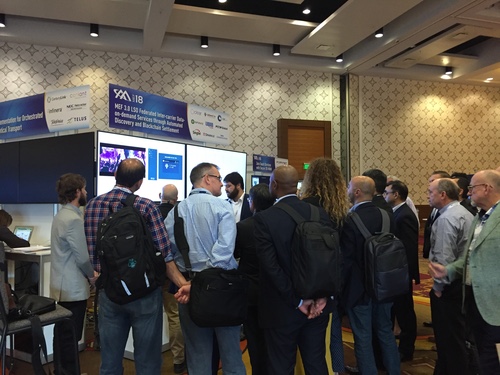 So why the optimism? The primary reason seems to be the feeling among many that newer services based on virtualization in general, and software-defined WAN in particular, are finally "getting real" -- meaning they can be deployed at scale. AT&T is turning up 28,000 SD-WAN endpoints and Charter is moving its SD-WAN service into the commercial column after a year-long trial. CenturyLink Inc. (NYSE: CTL) has also overcome its early issues around SD-WAN deployment by developing templates that speed up the process and is expecting more significant ramp.
And for many involved at this end of the business, this daylight at the end of the tunnel is coming after years of engagement and investment in the underlying technologies, as well as frustration at the pace at which things were moving. One cable business executive commented -- not for quotation -- that after constantly going to the CFO to ask for more money to plow into services that aren't yet generating much revenue, he was looking forward to having real sales numbers to share.
There was also generally a feeling that MEF itself is on the right track, focusing on services and making those work both inter-carrier and intra-carrier, defining applications programming interfaces that can be widely used and producing some industry standard definitions around SD-WAN. The large number of multi-carrier proofs of concept were a clear indication of how active network operators have been in putting the MEF work to work.
Of course, none of this optimism will mean much if network operators can't start to move the needle on business service revenues. For incumbents, this is a much bigger challenge but also a potentially bigger opportunity, especially given the consolidation within the industry. The proof will be in the numbers, and 2019 isn't too early to start looking for signs of a turnaround or admitting one may not be coming for everyone.
— Carol Wilson, Editor-at-Large, Light Reading