Can Comcast Stop Losing Video Subscribers?
A new IP-based interface, along with a broad video-on-demand (VoD) library and a fat broadband pipe, could help to reverse
Comcast Corp.
(Nasdaq: CMCSA, CMCSK)'s deep video subscriber losses and get the company close to breakeven in the category as soon as 2013, a leading industry analyst believes.
Sanford C. Bernstein & Co. Inc.
Senior Analyst Craig Moffett predicted as much in a report issued Wednesday that partly factors in the advantages of a new cloud-based "Xcalibur" search and navigation system, which the MSO showed off publicly for the first time at last month's Cable Show in Chicago. (See
Comcast Demos New Web-Based TV Service
,
Comcast Confirms Xcalibur Partners
and
Xcalibur's Coming-Out Party?
)
While Comcast has been out in front in terms of the size of its video-on-demand (VoD) vault, Moffett notes that the MSO's VoD usage has disappointed (a CAGR of just 15 percent since 2007), due in large part to the MSO's crummy legacy set-top guides. Xcalibur sets out to change all that.
"Suddenly, all that Comcast VoD content is searchable, browsable, and ... well,
findable
," he adds.
He's also bullish that new IP-fed video platforms such as Comcast's will help it, and perhaps other MSOs, slow the loss of video subs -- a problem that has afflicted just about every domestic cable operator. The firm estimates that the U.S. cable industry has lost 7 million subs since 2007, and seen its market share shrink from 80 percent to 60 percent.
As for Comcast, Moffett believes a "video renaissance" may be on the horizon, predicting a loss of
just
283,000 video subs this year, less than half of the 757,000 it lost last year.
"By 2013, we have Comcast roughly at breakeven in video subscribers (we project a loss of less than 50K subscribers, or just 0.25%)," he added. "That would be quite a turnabout, considering that video is generally perceived as Cable's
weakest
link."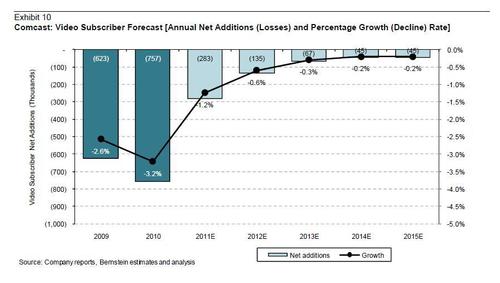 U.S. cable's broadband advantage could also play a role in stealing back video subs from the satellite TV industry, which is already seeing its annual rate of growth decline -- from 3.21 million annual net additions in 2004 to just 690,000 last year.
Most satellite TV subs use DSL connections to access broadband-fed VoD services from
DirecTV Group Inc.
(NYSE: DTV) and
Dish Network LLC
(Nasdaq: DISH), but Moffett sees cable modem services gaining toeholds in some of those homes as customers become more and more dependent on quality high-speed links.
As cable's broadband share grows in those homes, "Comcast and its peer cable operators can offer increasingly compelling bundles to win back satellite video subscribers," Moffett writes.
— Jeff Baumgartner, Site Editor,
Light Reading Cable
PARTNER PERSPECTIVES
- content from our sponsors