Calix Networks has made many claims about the capabilities of its multifunction telecom access system. Now it looks like it has at least one patent in its corner.

Is the patent for a customized ASIC? A new-fangled line card? A clump of software code?

No. The patent -- the company's first -- was for a beverage holder. Awarded to the Petaluma startup in late May, the patent covers a cupholder fitted on the door of its remote cabinets, the self-cooling enclosures Calix sells to carriers.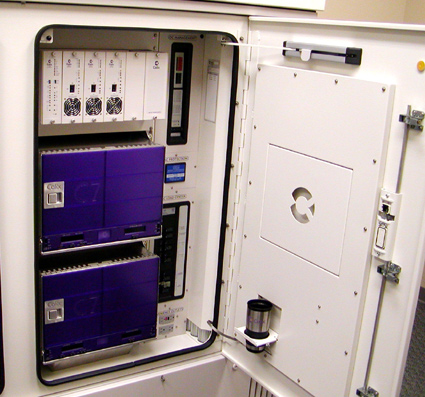 So why would someone need a beverage holder in an outdoor telecom equipment cabinet?

In detail, the patent explains: "A worker opening the door of the outdoor enclosure can unfold the tray into an open position, then place his coffee cup in the tray before commencing work on the electronic components. While working on the electronic components, the worker can drink his coffee or other beverage from the coffee cup." [Ed. note: emphasis (hic!) added.]

Now, of course, Calix's invention isn't as much fun as a butt-kicking machine (Patent #6293874) nor is it as impressive sounding as optoelectronically controlled camouflage (Patent #5307162). But who can blame them for trying to protect a dandy of an idea?

Obviously Calix's competitors don't. Light Reading pinged a few Calix rivals in hopes of getting some saucy quotes and all we got was the brush-off. Picture them now: sitting outside a remote cabinet, fending off calls from reporters, and trying to get a good day's work done while having to reach up to get their coffee (or other beverage) which is so inconveniently sitting on top of the cabinet.

The granting of Calix's cup holder patent won't be nearly as interesting as any steps the company may take in the future to defend its patent. Indeed, the telecom industry is one of the worst in terms of patent lawsuits that end up sounding as if they're the product of too many nights spent consuming "other beverages."

SBC Communications Inc. (NYSE: SBC), for instance, once tried to convince the world that any Website that used HTML frames to display documents was in violation of its patents for a structured document browser. British Telecommunications plc (BT) (NYSE: BTY; London: BTA) sued several ISPs claiming that the ISPs should pay BT each time their customers clicked on a highlighted word because BT allegedly invented the concept of hyperlinking.

More recently, BT has claimed that at least six U.S. carriers are treading on its patents because the carriers allegedly constructed their networks by using "a gaseous medium" to propel fiber through conduits (see BT Says US Carriers Full of Hot Air).

Calix declined to comment on its patent activity.

— Phil Harvey, Senior Editor, Light Reading