Sizing up the players in the cable access network market has been a relatively easy task in recent years. During the DOCSIS 3.0 and 3.1 eras, Arris and Cisco Systems have led the way, chased by Casa Systems and Harmonic. Nokia, meanwhile, has been nipping at everyone's heels as it attempts to become a material player following its 2016 acquisition of Gainspeed.
After years of general stabilization interrupted by minor vibrations, the tectonic plates of that market are rumbling and shifting as cable operators assess their next moves with a distributed access architecture (DAA), network virtualization and the pursuit of bandwidth-enhancing technologies such as Full Duplex DOCSIS (FDX) and Extended Spectrum DOCSIS (ESD).
Rather than going after these new technologies in unison as they did during previous generations of DOCSIS, this time around operators have been gravitating to a wider set of technology options as they begin to pursue access networks that can pump out symmetrical speeds of 10 Gbit/s.
Comcast has been championing FDX, which will enable both upstream and downstream traffic to run on the same block of spectrum. But many others are favoring ESD, viewed by some engineers as a much less complicated way to add capacity because it will continue to split off spectrum that is dedicated to the downstream and upstream traffic. Many operators are also reluctant to pursue "node+0" upgrades required for FDX that pull fiber deeper into the network while also eliminating the amplifiers between the node and the home. ESD, by comparison, doesn't have that node+0 limitation.
"Things are kind of a mess right now," said Alan Breznick, cable/video practice leader for Light Reading. "As a result, a paralysis has settled in because both operators and vendors aren't sure where to place their bets for the future."
This fragmentation and divisiveness threaten to spawn a new kind of problem for the cable industry and its market of equipment vendors and silicon partners. Comcast alone might not be big enough to drive enough volume into FDX to make the economics work for suppliers. And the other operators don't drive enough volume for a different, non-FDX option.
That's a clear indicator of how fragile the cable tech ecosystem has become. Before vendors can develop and build something big, they need the full support of the MSO community as well as firm direction on the path that's going to be taken. Significant fragmentation and differentiation between technologies and upgrade options could make life difficult for some suppliers and possibly cause others to throw up their hands and decide to apply more of their dollars and engineering resources to other projects like 5G.
"If it does split [between FDX and ESD], I don't know if we're big enough to split," said an exec with a cable network vendor.
"None of us are big enough to carry the ecosystem," agreed a cable exec familiar with the debate.
Unless the nuances are ironed out and people stop playing games, some MSOs might have to take a much closer look at fiber-to-the-premises as a longer-term next step. Though FTTP is underpinned by a large, standardized ecosystem, the upgrade costs would be extraordinarily high for MSOs, and it's a message that would probably go over like a lead balloon on Wall Street.
"I would think that's the last thing operators want to do," Breznick said. "Besides signaling big, unwanted hikes in capex, they would basically be admitting to Wall Street that they adopted the wrong strategy with Fiber Deep and FDX."
DOCSIS 4.0 might bridge the gap (more on that later), but the differences of opinion and infighting about technology approach in recent years has contributed to a slow down on cable's next big move and operator capital spending on the access network.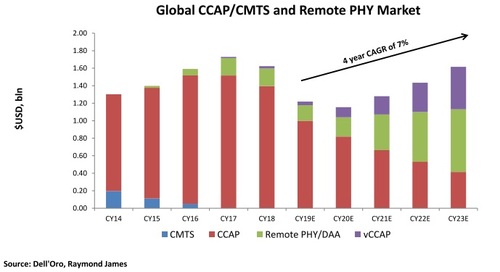 Tough times for vendors
Before spending picks up steam again, (perhaps in 2021, per some analyst estimates), that slowdown in spending and ongoing indecision have made for tough sledding among the industry's top players. Casa Systems and Arris (now part of CommScope) have felt the impact in the form of reduced access network sales in recent financial periods.
Cisco Systems doesn't break out its cable access network numbers but recently confirmed that it had suspended spending on FDX until there's more certainty in the market. Some Cisco customers have privately expressed concern about this decision and the loss of some engineers at Cisco's cable access unit and is raising questions about the company's longer-term commitment. However, more light on Cisco's going-forward plan in the cable market should be revealed this fall at the SCTE-ISBE Cable-Tec Expo in New Orleans.
Two sources said chipmaker MaxLinear also made a significant bet on FDX that has yet to pay off, and that Broadcom is smarting from the millions it has poured into FDX technology development.
For its part, MaxLinear said it's in this for the long haul, noting it has developed and demonstrated FDX and non-FDX products for remote PHY devices and consumer premises equipment. "As MSOs finalize their next-generation roadmaps, MaxLinear will be actively participating in the CableLabs led DOCSIS 4.0 specification development," the company said in a statement.
Multiple industry sources said Huawei has also put its cable access network plans on the back burner, though that decision is said to be caused by other factors -- the US-China trade war and investments in the European cable market that didn't pan out.
Even as various cable access network vendors lick their wounds, most jarring has been the recent struggles at Cisco and Arris, which has seen several of its former top execs, including past Arris CEO Bruce McClelland, exit in the wake of a merger with CommScope that was consummated in April.
"I've never seen our two largest suppliers in this industry [dealing] with so much chaos," a top exec with a cable vendor remarked about Arris and Cisco. "We're at a kind of crossroads."
Update: CommScope, meanwhile, says it is embracing the changes occurring in the market and as the cable industry embarks on its pursuit of DOCSIS 4.0.
"Network evolution and disruption is a benefit for CommScope," Kevin Keefe, senior vice president and segment leader of network and cloud at CommScope, said in an emailed statement. "We're heavily involved in the foundation of DOCSIS 4.0, and we'll be in a unique position to define and support our partners' migration to the new standard. In the meantime, no one can match our broad product portfolio and technical expertise to support operators' various pathways to success including the latest virtualized solutions. We're the node and CCAP leader in DOCSIS 3.0 and 3.1, and we continue to see significant benefits of these existing technology deployments as operators strive to maximize their network investments. The fundamental drivers for investing in the HFC network remain unchanged. We're leading a strong market; we're diversified in a wide range of next-generation architectures; and we're defining the future of our industry's network technologies."
Market disruption could help Harmonic
One company that seems to have benefited from the disorder is Harmonic. While Harmonic has been a long-time supplier of nodes and other network gear, it's been rattling the status quo with "CableOS," a virtual form of the converged cable access platform (CCAP) that can run in both centralized and new DAA access architectures. Harmonic, which appears to have a big lead in the vCCAP market, has commercial deployments of CableOS underway with at least 16 operators around the world. Its marquee customer is Comcast, which recently signed Harmonic to a four-year, $175 million CableOS enterprise licensing deal.
Update: A reader pointed out that Harmonic sold its Cable Access Unit to Aurora Networks (now part of Arris/CommScope) in 2013, so there was a temporary gap in that part of Harmonic's product lineup. However, Harmonic has since rekindled a cable access business that includes CableOS as well as a lineup of other products, including remote PHY devices.
Harmonic's deal with Comcast also includes incentives for the MSO to purchase fiber nodes and other network hardware from the vendor that, in turn, could reduce the software fees that Comcast ends up paying to Harmonic. With the software and potential hardware components taken together, the deal could apply even more pressure on rival vendors.
Harmonic might also be able to parlay the Comcast CableOS deal into more business with other North American tier 1s. "Our checks further indicate that Cox and the Canadians (Shaw, Rogers and Videotron) have monitored the Comcast efforts and we consider these likely customers for Harmonic's virtual CCAP in the future," Simon Leopold, an analyst with Raymond James, wrote in a research note last week.
That makes sense in more ways than one. All of those cable operators already are Comcast X1 syndication partners for video. Comcast, industry sources have said, is exploring a syndication model for a vCCAP involving Harmonic's CableOS technology. If Comcast ends up doing that, its X1 syndication partners are a logical fit.
Last month, Harmonic CEO Patrick Harshman said the current form of the Comcast CableOS deal is limited to the MSO's own footprint, but allowed that he's "not privy to all their internal plans," when asked about reports about Comcast's pursuit of a vCCAP syndication offering.
Next page: DOCSIS 4.0 to the rescue?