Building on a technology syndication deal with Comcast forged in 2017, Canada's Videotron has introduced a new entertainment and home connectivity platform under the Helix brand.
The new offering borrows several pages from the Comcast X1 and xFi playbook involving a voice remote, streaming video box and managed whole-home WiFi system. Videotron said it will later integrate smart home automation capabilities into Helix.
The debut of Helix comes about two years after Videotron announced an X1 syndication deal with Comcast. While that agreement provides Videotron with a path to IP-delivered video services, it also opened the door to other services and capabilities that run on Comcast's cloud-based platform.
Helix's DOCSIS 3.1/WiFi gateway, IP video client (supporting both pay-TV and OTT services like Netflix and Videotron's own Club illico SVoD service), voice remote and WiFi pod extenders mirror the hardware designs that Comcast uses, but are affixed with Videotron's Helix brand. Videotron has also enabled the voice piece of the platform to understand both English and French. Videotron will reportedly make the Helix Fi Gateway available for sale at C$250 ($187 US) and the Helix TV terminal (a version of a wireless set-top that Comcast uses for its own X1 platform) for sale at C$180 ($135 US).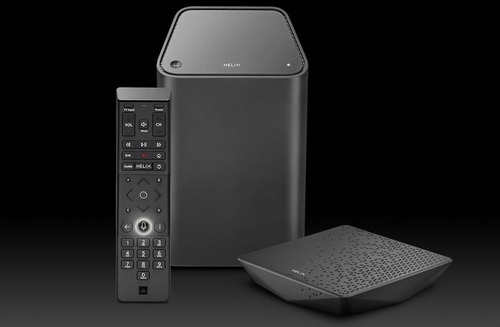 Update: With respect to the DOCSIS 3.1/WiFi gateways for Comcast and the syndication partners, Comcast's suppliers are Arris/CommScope (using Intel silicon) and Technicolor (using Broadcom). Videotron is using the Technicolor/Broadcom flavor of the device, according to an industry source.
Videotron's new video and home connectivity platform also runs on the Reference Design Kit (RDK), the open source software system managed by a joint venture of Comcast, Liberty Global and Charter Communications. Videotron has been asked for further comment, but the Helix Fi platform, which enables subs to manage their WiFi network, also reflects many of the features of Comcast's xFi offering.
Other announced X1 syndication partners include Cox Communications, Rogers Communications and Shaw Communications. While those operators cede some control of their product development and roadmap to Comcast, they also get the benefit of improved economics because they can ride Comcast's volume purchasing power.
Videotron has invested "hundreds of millions of dollars" on the new offering, company CEO Jean-François Pruneau said Tuesday at a presser in Montreal, according to the Montreal Gazette.
Videotron also hopes these new product options will lead to improvements at its cable business.
Videotron's Q2 2019 revenues, aided by mobile growth, were up 1.4% to $844.4 million, but combined cable services revenues dropped 1.6%, to $247.5 million. Videotron also dropped 3,900 cable broadband subs in Q2 (ending with 1.7 million) and lost 24,200 pay-TV subs (ending the period with 1.55 million).
Related posts:

— Jeff Baumgartner, Senior Editor, Light Reading