Verizon IPTV Ambitions May Go Beyond Go90

Comment (10)
Passing through the electronic halls of the FCC is a new IPTV set-top.
Verizon Communications Inc. (NYSE: VZ) filed documents on the box this week (Hat tip, Dave Zatz) and revealed a few technical details. The box is all-IP (no QAM support, which FiOS uses for linear TV), and it includes both 802.11 a/b/g/n/ac WiFi and Bluetooth. The label below also suggests MoCA support.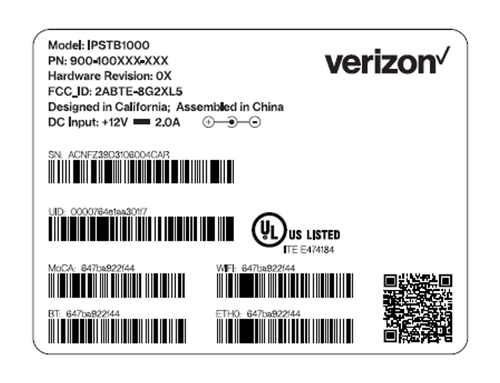 Today, Go90 is the centerpiece of Verizon's consumer IP video portfolio. However, it's possible with a new IP set-top that Verizon may have further IPTV plans beyond the existing Go90 app, something the company has hinted at before. (See Verizon Plans Mobile TV Service in 2015 and Why Did Verizon Buy OnCue?)
One industry source says that the box is meant to be a replacement client set-top for the Verizon Media Server product, which powers the FiOS Quantum TV service. Verizon did not respond to a request for comment.
---
For more on TV technology trends, check out our dedicated video services content channel here on Light Reading.
---
Interestingly, the new IPTV box is surfacing in the same week that Verizon announced it's expanding into a new FiOS market. The surprise news that Verizon plans to introduce fiber-to-the-home broadband service and pursue a TV franchise agreement in Boston counters a years-long trend of the telco moving away from further FiOS investment. (See Verizon Throws Surprise FiOS Party for Boston.)
New competition in both broadband and video services may have Verizon rethinking its strategy.
— Mari Silbey, Senior Editor, Cable/Video, Light Reading