As expected, the FCC voted to approve Chairman Tom Wheeler's "Unlock the Box" proposal today along party lines. Democrats voted with Chairman Wheeler, while Republicans voted against. The decision, however, is not the end of the debate. Instead, it's the start of a new process that looks to define the steps needed to create greater hardware and software competition in the pay-TV market.
In his closing comments before the vote, Chairman Wheeler opined:
"This issue really is not complex. Congress has explicitly instructed us to assure that there are competitive navigation devices, be it a box or an app... The issue is whether you are forced to rent that box every month after month... or whether you are forced to rent that app every month after month... Congress was clear. They said there should be competition."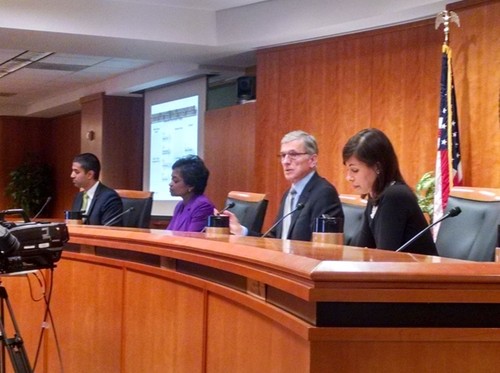 Despite efforts to simplify the issue, however, Federal Communications Commission (FCC) Commissioners weren't able to avoid contradictory statements in their debate and rhetoric suggesting that the Unlock the Box initiative was alternatively in the interest of consumers and long overdue, or an outdated approach to the market that will stifle further innovation and harm independent programmers and the American public. Commissioner Ajit Pai asserted that Chairman Wheeler's proposal would effectively require pay-TV providers to put yet more boxes in consumer homes, while Chairman Wheeler asserted that no new box will be necessary.
Wheeler also assured his audience at the FCC meeting that user privacy rights will be protected with any new system, while his opponents argued that there is no guarantee on that issue because the FCC has no authority over third-party technology providers.
Both Commissioner Pai and Commissioner Michael O'Rielly also pointed out that the FCC has not included over-the-top video providers in the proposal to make video streams accessible to outside hardware and software developers. Because the FCC is still considering whether to reclassify OTT providers as Multichannel Video Programming Distributors (MVPDs), the issue could be a critical one, creating different standards of practice for the sharing of video content depending on the service provider. (See To Be or Not to Be an MVPD.)
And finally, Democratic Commissioners Mignon Clyburn and Jessica Rosenworcel argued with Republican Commissioners Pai and O'Rielly about whether the new proposal would have a negative effect on independent programmers. Pai in particular invoked programming that today is far more diverse than it once was, a situation he deemed as potentially under threat with the new proposal. Rosenworcel on the other side referred to today's "Oscars so white" and "female directors so few," suggesting that independent programming hasn't fared so well under the current regime.
---
For more on the pay-TV market, check out our dedicated video services content channel here on Light Reading.
---
Now that the Unlock the Box proposal, known as a Notice of Proposed Rulemaking (NPRM), has been adopted, the FCC will seek public comment. When that happens, there is sure to be a significant volume of response -- from lawyers, analysts, lobbyists and more than a few additional interested parties. For further reading on the subject of today's vote, including context on what's at stake, see:
And for more on my own opinions on the ruling, stay tuned.
— Mari Silbey, Senior Editor, Cable/Video, Light Reading